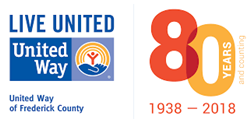 FREDERICK, Md. (PRWEB) November 19, 2020
United Way of Frederick County has launched the United in Recovery campaign to support ALICE (Asset Limited, Income Constrained, Employed) families and individuals through the COVID-19 pandemic.
Before COVID-19, over 1 in 3 of all households in Frederick County lived paycheck to paycheck due to the high costs of housing, transportation and healthcare. Because of COVID, that number has increased substantially. United Way's ALICE Report shows that these families, known as ALICE, have been the most likely to suffer the severe health and economic consequences of the pandemic.
United in Recovery will help ALICE families in three ways:
1. It will help ALICE families recovery and rebuild by providing Pathways to Financial Stability
2. It will help nonprofits recover and rebuild by providing funding, volunteers and training
3. It will help businesses and government make informed decisions by providing community research and analysis
"In this difficult time, United Way is in an ongoing position to bring critical resources to ALICE families in our community," said Ken Oldham, President & CEO of United Way of Frederick County. "The effective programs funded by United in Recovery will allow our working families to recovery and rebuild in the coming months and years."
Pathways to Financial Stability provides personalized budget coaching, credit counseling, income tax assistance and two matched savings programs to provide access to essential assets for long-term growth and stability. The Pathway to Transportation provides ALICE households access to an affordable, reliable and safe used car. The Pathway to Homeownership makes homeownership accessible to families who never thought it was possible.
United in Recovery is the next strategic initiative after its successful COVID-19 Emergency Relief Campaign. The Emergency Relief Campaign raised over $300,000 that enabled 55 grants to 35 local nonprofit organizations that helped struggling families most affected by the COVID-19 pandemic.
United in Recovery runs in coordination with United Way's annual workplace campaign. The workplace campaign has been a fundraising staple for over 80 years in Frederick County. Contributors may give through their workplace campaign or donate directly by going to http://www.uwfrederick.org/recovery.
About United Way of Frederick County
For over 80 years, United Way of Frederick County has been fighting to achieve lasting change by identifying the ALICE (Asset-Limited, Income-Constrained, Employed) and impoverished families in Frederick County and working to strengthen their education, financial stability, and health to build a strong, viable community. Our work focuses on helping children and youth be successful in school and achieve their potential through education; helping people obtain the tools they need to become financially stable and independent; and ensuring our neighbors in need have access to healthy, nutritious food and healthcare.
United Way partners include global, national and local businesses, nonprofits, government, civic and faith-based organizations, along with educators, health providers, senior citizens, students, and others. The organization provides grants to local nonprofits, offers programs such as free tax preparation and matched savings, mobilizes volunteers, and engages in public policy advocacy. To learn more about United Way and how you can get involved, please visit UnitedWayFrederick.org.