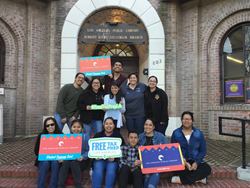 LOS ANGELES (PRWEB) April 15, 2019
This year, City National Bank co-sponsored nearly 100 volunteers to join United Way of Greater Los Angeles, receiving IRS certification to help low-income, working families and individuals file their taxes and put money back into their pockets.
Through the Volunteer Income Tax Assistance (VITA) program, United Way of Greater Los Angeles volunteers provide free tax assistance for households who are eligible for the Earned Income Tax Credit (EITC). United Way of Greater Los Angeles, in partnership with the Free Tax Prep Los Angeles coalition, has been a leader in the VITA program since 2007 and trains volunteers to impact lives and incomes.
United Way's 2019 cohort of VITA tax preparers have been out in the community supporting working families who made less than $56,000 in 2018. This dedicated team helped hundreds of households receive up to $5,500 through the EITC, the California EITC, their normal tax return, and by helping them save on the cost of filing their taxes.
"City National Bank believes in fostering financial literacy in the community and we are excited to team up during tax season with our partners at United Way to provide this valuable resource," remarked Jennifer Nickerson, Senior Vice President, Corporate Citizenship, City National Bank.
City National Bank has worked with United Way of Greater Los Angeles on a variety of programs. They are an event sponsor of the upcoming HomeWalk 5K Run/Walk Bringing EVERYONE IN to end homelessness on May 18 and EmpowerHER Awards to be held June 13, 2019. Additionally City National Bank has been active as a donor to United Way's Southern California Disaster Relief Fund for the Hill and Woolsey Fires, an event sponsor of Fall into Literacy and Leadership for L.A.'s Future, and a giving society category sponsor to United Way's Emerging Leaders.
About United Way of Greater Los Angeles
United Way of Greater Los Angeles is a nonprofit organization fighting to end poverty by preparing students for high school graduation, college, and the workforce; housing our homeless neighbors; and guiding hard-working families towards economic mobility. United Way identifies the root causes of poverty and works strategically to solve them by building alliances across all sectors, funding targeted programs and advocating for change. For more information, visit UnitedWayLA.org and EveryoneInLA.org.
About City National
With $51.1 billion in assets, City National Bank provides banking, investment and trust services through 71 offices, including 19 full-service regional centers, in Southern California, the San Francisco Bay Area, Nevada, New York City, Nashville, Atlanta, Minneapolis and Washington, D.C. In addition, the company and its investment affiliates manage or administer $71.7 billion in client investment assets.
City National is a subsidiary of Royal Bank of Canada (RBC), one of North America's leading diversified financial services companies. RBC serves more than 16 million personal, business, public sector and institutional clients through offices in Canada, the United States and 33 other countries. For more information about City National, visit the company's website at cnb.com.