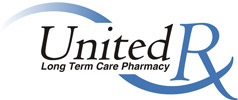 "I'm very happy to welcome MedCare LTC to our family of pharmacies," said UnitedRx Chief Operating Officer Chuck Benain. "This move was a crucial part of our plan to infiltrate other markets and expand our long-term care portfolio in 2022."
PHILADELPHIA (PRWEB) December 02, 2021
UnitedRx, the Midwest's largest long-term care pharmacy, has acquired Philadelphia-based MedCare LTC, expanding its footprint to the East Coast as part of a strategy to service facilities across the United States.
"I'm very happy to welcome MedCare LTC to our family of pharmacies," said UnitedRx Chief Operating Officer Chuck Benain. "This move was a crucial part of our plan to infiltrate other markets and expand our long-term care portfolio in 2022."
The MedCare LTC location currently services assisted living facilities in and around the greater Philadelphia area, but UnitedRx will move them to the Skilled Nursing side of long-term care with a state-of-the-art pharmacy that will be opening in south Philadelphia the first quarter of 2022.
"Our advanced communication and packaging technologies, custom and flexible solutions, electronic billing and full eMar bidirectional integration, will allow staff to focus on what really matters and that is patient care," added Benain.
The acquisition brings the total number of facilities where UnitedRx provides service to 294 facilities and 26,000 beds across 20 states including skilled nursing facilities, assisted living communities, group homes, intermediate care facilities (ICF-DD) and hospice.
"We're very excited for this location to serve as our base of operations on the East Coast," said UnitedRx National Director of Sales Melanie Williams. "We're also looking forward to expanding MedCare's services while keeping the personal touch of a hometown pharmacy."
UnitedRx utilizes FrameworkLink which allows real-time access to order status, controlled substance destruction documentation and quick medication pricing, as well as Cubex Technology in each facility to have a secure first dose machine that holds 300 medications, including parenterals and narcotics. UnitedRx also delivers medications to facilities seven days a week via DeliveryTrack technology to provide secure and accountable medication delivery.
"If you can trust in your long-term care pharmacy, your outcomes will be improved and your costs will be reduced," added Williams. "With the infrastructure that UnitedRx provides, MedCare LTC will be able to broaden their services to include skilled nursing facilities on the East Coast."
About UnitedRx:
UnitedRx is one of the largest, full-service, independent long-term care pharmacies headquartered in Illinois. Developed in 2008, UnitedRx has grown to over 294 facilities consisting of skilled nursing facilities, assisted living communities, youth homes, intermediate care facilities (ICF-DD) and hospice care. UnitedRx serves over 26,000 beds across 20 states with pharmacy locations in Illinois, Kansas, Nevada and Tennessee while employing over 250 people with an average of seven years of experience in pharmacy. UnitedRx is committed to performing outstanding customer service to form meaningful and long-lasting relationships to produce positive results with facilities they partner with.