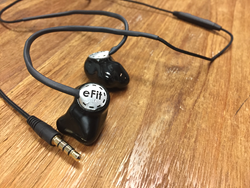 We are working with a number of global companies to create the next generation in-ear device that non-obtrusively obtains a significant amount of reliable and accurate biometrics that will greatly improve consumers' lives.
Atlanta, Georgia (PRWEB) December 23, 2015
United Sciences' eFit technology, the first 3D scanner to perfectly capture the geometry of the human ear, will be demonstrating its ear scanning process at the Consumer Electronics Show in Las Vegas, Jan. 6 to Jan. 9. These 3D scans allow for the creation of custom-­fit in­-ear devices such as headphones and in-ear monitors for music enthusiasts or performance artists and hearing protection or noise isolating devices for the military and everyday consumer. Additionally, United Sciences will be demonstrating new and exciting technological breakthroughs in collecting biometric health data from the ear, which will enable consumers to monitor their health and fitness through the same headphone device.
For its eFit 3D ear scanning and imaging solutions, United Sciences has been named a CES 2016 Innovation Awards Honoree. Products in this prestigious program are judged by a preeminent panel of independent industrial designers, independent engineers and members of the trade media to honor outstanding design and engineering in cutting edge consumer electronics products. United Sciences welcomes any guest interested in either a pair of custom-fit headphones, custom in-ear monitors or custom travel or sleep earplugs to visit their booth located in The Wearables Marketplace at the Consumer Electronics Show (Sands Expo, booth #73251). United Sciences' technology fits every unique ear's dimensions and will be available in select retail outlets starting in 2016.
"Our technology is an enabling platform that will bring custom in-ear devices to the mass retail market that were not before accessible," said Andy Mathes, Executive Vice President of United Sciences. "We believe there is strong demand for not only a personalized and custom headphone unique to a consumer's ear, but also an emerging class of hearables whereby biometric sensors in these same custom devices will capture usable data for continuous health monitoring." Sam Kellett, Co-founder and CEO of United Sciences, went on to say, "Our 3D ear scan enables a platform for wearable or hearable computing, which not only provides continuous health monitoring but also brain computer interfaces and sleep monitoring. We are working with a number of global companies to create the next generation in-ear device that non-obtrusively obtains a significant amount of reliable and accurate biometrics that will greatly improve consumers' lives."
The current method of creating other custom-fit in-ear devices has many barriers preventing it from becoming available to the mass retail market. To create custom devices in the past, such as hearing aids or custom in-ear monitors that rock stars wear on stage, users have been required to make appointments with audiologists and licensed operators to get fit for devices using silicone ear mold impressions. The process is tedious, expensive and can potentially be unsafe. United Sciences' digital 3D scanner eliminates the need for a physical impression by capturing a consumer's 3D image of the inner and outer ear through a non-invasive process within minutes. Those 3D scans can then be sent to a 3D printer directly versus physically shipping ear molds to manufacturing labs. The eFit process eliminates several steps and saves significant time and money, creating a more accurate 3D map of the ear which, in turn, creates better fitting devices. Furthermore, the process is so safe and non-intrusive for the consumer that any retail employee can capture the data and operate the scanner.
For more information on United Sciences' eFit 3D scanning technology and in-ear devices, please visit http://www.unitedsciences.com. If you are interested in a demo appointment at CES, please contact alyssa(at)unitedsciences.com.
ABOUT UNITED SCIENCES
United Sciences, LLC is an innovator and manufacturer of precision 3D hole scanning and imaging solutions for targeted industries. United Sciences has developed highly disruptive technologies that overcome the technical challenges of existing 3D scanners that are only capable of measuring exterior surfaces. The patent protected in-ear scanner is the only mobile scanning technology that uses real-time imaging to obtain 3D measurements of the inner ear that can be used to create custom in-ear devices which applications include hearing aids, industrial hearing protection, custom headphones and wearables. United Sciences' scanning technology has also been applied to precision manufacturing industries, including the inspection and measurement of holes in airframe manufacturing and assembly. United Sciences provides hole scanners for non-contact measurement, diagnostics and analytics, creating significant productivity and quality improvements. United Sciences is headquartered in Atlanta, Georgia with customers and research partners around the world. For more information, visit http://www.unitedsciences.com.