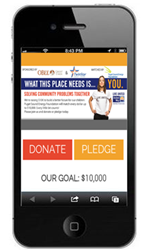 United Way wanted to embrace the power of social media and mobile giving to shake up our fundraising
WA (PRWEB) October 27, 2014
Building a better future starts with you, and United Way of Thurston County is asking its entire community to rise to the challenge with a new Make The Match campaign. Along with its community partners, United Way aims to raise $10,000 to support local programs that empower youth to be resilient, learn, and succeed. To make it easier than ever for people to give and get involved, United Way is partnering with technology company CafeGive Social to reach more donors through mobile and Facebook.
The campaign raises money for United Way's Community Care Fund, which is reinvested in the community and in providing solutions to pressing needs such as affordable housing, education, and support for Thurston County's estimated 1,123 homeless children and their families.
Supporters can donate to the campaign simply by texting "UNITED" to 5-5-1-5-5 and following the link, or by visiting United Way's Facebook page. Using CafeGive Social's Make The Match tool, supporters can also easily share and promote the campaign after they donate; boosting its reach and connecting to more donors.
"United Way wanted to embrace the power of social media and mobile giving to shake up our fundraising," said Michelle Rodriguez, Communications and Events Director at United Way of Thurston County. "It was an opportunity to reach a demographic outside the scope of workplace campaigns. This campaign is a new way for us to reach an online community to increase individual giving and engage with those we don't normally target for donations."
O Bee Credit Union and TwinStar Credit Union have partnered with United Way to sponsor the campaign, and Puget Sound Energy Foundation will help double donations and impact by matching donations dollar-for-dollar, up to $10,000. All three partners are committed to helping solve community problems together with United Way.
United Way is known for building strong relationships with community partners, and their network of businesses, nonprofits, and community members have been crucial to the launch of the campaign. Rodriguez said that their board members, existing donors, and volunteers have been some of the greatest supporters of the matching campaign.
Rodriguez said that United Way wanted to change the way that they reach out to supporters, and leveraged their partnership with CafeGive Social to connect with more supporters and donors and grow their online community.
"That approach includes taking bold steps to increase our fundraising efforts and engagement within Thurston County," added Rodriguez. She said that United Way recognizes the importance of addressing issues like homelessness and education disparities, but that United Way cannot find solutions alone. "Our new initiative "What this place needs is you" recognizes that change begins with "you." And, together, we can help create a lasting impact for future generations," said Rodriguez.
About CafeGive Social: CafeGive Social provides social media tools for companies with a social purpose. CafeGive Social is the only company that combines social media marketing with meaningful, action-oriented cause marketing applications, and helps organizations of all sizes to scale and share their community impact using social. Headquartered in Portland, Oregon, CafeGive is a Certified B Corporation and Benefit Company. For more information, visit http://www.cafegive.com.
About United Way of Thurston County: More than a fundraising organization, United Way is a partner in change, working with a broad range of individuals and organizations to identify and find solutions to our community's most critical issues. United Way focuses resources on education, income and health to get at the underlying causes of problems. United Way works to advance the common good, to improve the lives of those who need help most. For more information, visit http://www.unitedway-thurston.org