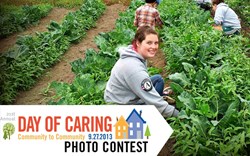 Strategic social media campaigns like United Way of Thurston County's 21st Annual Day of Caring photo contest help organizations extend their reach and create real impact.
Olympia, WA (PRWEB) September 26, 2013
Although United Way of Thurston County is connected to an 1800-strong network of United Way affiliates across the globe, it's a local organization at heart. This relatively small yet mighty branch, located near Puget Sound, Washington, is transforming its community one positive change at a time.
This year, United Way of Thurston County is setting its sights on breaking records with its 21st Annual Day of Caring Celebration. To bring in more volunteers and serve more projects than ever before, UW Thurston will be counting on the power of social media cause marketing to help them reach their goals.
Care To Win?
Nearly eight hundred people have already signed up to take part in the 2013 Day of Caring this September 27. These volunteers will be lending a hand to accomplish 40 community-based projects. To celebrate twenty-one years of impact by thanking the volunteers who continue to make it possible, UW Thurston is launching a fully branded CafeGive Social-powered photo contest.
From September 27 to October 31, UW Thurston supporters, clients, and employees can win big by giving back and taking part in the photo contest. All contestants have to do is take a photo of themselves participating in United Way's Day of Caring and submit it using Cafegive's Photo Contest App for Facebook to enter for a chance to win a $50 Visa gift card.
Day of Caring participants can submit photos in four categories: funniest, hardest working, dirtiest, and most inspiring. UW Thurston has four $50 cards to give away, one for the winner in each category.
Giving Back Goes Mobile
It's easy to participate in the photo contest from anywhere. Day of Caring participants can take a quick cameo and seamlessly get back to giving back with UW Thurston's mobile-optimized campaign. Volunteers can enter UW Thurston's Day of Giving Photo Contest using their smartphones by taking a photo of themselves taking part in Day of Caring activities and uploading it to the contest. All participants have to do is text "UNITED" to 55155 and follow the steps to get started.
Fans and followers of UW Thurston can also use their phones to vote for their favorite photos and keep track of which pictures are in the lead. As a truly social-powered campaign, the app uses built-in social sharing features to make it easy for fans to spread the word about the contest via social media.
"Like" The Common Good
Collaborative action is at the core of United Way's mission, and what better way to inspire collective giving, volunteerism, and involvement than through social media? Social messages are a powerful tool for mobilizing communities around a cause, creating Calls To Action, and educating large groups of people on the issues that matter most to them.
Strategic social media campaigns like the 21st Annual Day of Caring photo contest help organizations such as United Way of Thurston County extend their reach and create real impact. Every new "Like" that the campaign brings to UW Thurston's Facebook page equates to one new person joining UW Thurston and United Way Worldwide in advancing the common good.
About CafeGive Social
CafeGive is the only company that combines social media marketing with meaningful, action-oriented cause marketing applications. Using our product, CafeGive Social, we have helped companies, agencies and nonprofits of all sizes connect with customers to build brand, enhance reputation, raise awareness and effect social change. Headquartered in Portland, Oregon, CafeGive is a privately held company. For more information, visit http://www.cafegive.com
About United Way
United Way is a worldwide movement of nearly 1,800 community-based United Ways in 41 countries and territories. It advances the common good by focusing on education, income and health – the building blocks for a good quality life. The United Way movement mobilizes millions to action – to give, advocate and volunteer – to improve conditions in their local community. United Way of Thurston County is located in Olympia, WA. For more information about United Way, please visit: http://www.UnitedWay.org.