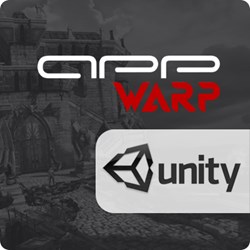 (PRWEB) January 31, 2014
ShepHertz – A Cloud Ecosystem provider for Apps (Mobile, Web, Social, Gaming and TV Apps) announces the launch of its new AppWarp Unity SDK, which allows developers to use Unity Free and still build for iOS and Android. Earlier developers required Unity Pro when using AppWarp and targeting builds for iOS and Android. This is achieved through the use of native socket plugins which removes its dependency on the .Net sockets package that is restricted on Unity Free version.
AppWarp is a powerful, yet simple platform for developing multiplayer real-time games and applications. The communication happens using its custom binary protocol and it supports all the popular client platforms such as iOS, Android, WP as well as middle-ware such as Unity, Marmalade, and Corona etc. It is available on the cloud as well as on-premise depending on customer scenarios.
AppWarp cloud is great for building applications whose game play doesn't require server side validation of client data and rely only on exchanging information between clients. Multiplayer games such as side-scrolling, action combat, racing as well as simple real-time turn based games can be developed using the cloud. The cloud saves you from the headache of deploying and managing the server side. You just write client side business logic and utilize the ready-made server side features of rooms, lobby, matchmaking etc.
The on-premise offering AppWarpS2 was recently launched by ShepHertz and allows developers to build games which require hosted AI, server generated characters, server-side anti-cheat logic etc. Casino style card games, MMO, RPG etc. are genres that can be developed using AppWarpS2.
About ShepHertz
ShepHertz Technologies is a cloud ecosystem provider for App and Game Developers which adds value to the complete development life cycle of their Apps and beyond. ShepHertz is an access channel and technology agnostic cloud computing (BaaS/MBaaS, PaaS) service provider. They have taken an ecosystem approach where they want to provide Mobile, Web, Social, SaaS, TV and Gaming App developers a One-Stop-Shop for all their Cloud needs. App42 product line also offers App42 Cloud API – Backend as a Service and AppWarp – Multiplayer Engine and App42 PaaS - Platform as a Service and BPaaS.
Reach them at:
Sales - sales(at)shephertz(dot)com
Company Website : http://www.shephertz.com
AppWarp - : http://appwarp.shephertz.com
Twitter : @shephertz
Daljeet Mehta
Daljeet.Mehta(at)shephertz(dot)com
Global Sales Lead - ShepHertz .