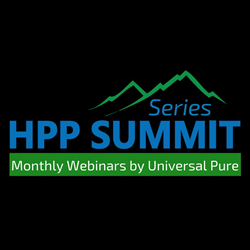 Hosting a virtual series enables us to reach more attendees from North America and around the world.
VILLA RICA, Ga. (PRWEB) October 10, 2018
Universal Pure today announced that it will hold monthly online webinars entitled HPP Summit™ Series, beginning Oct. 23, bringing together manufacturers, retailers, food service companies, regulatory, academic leaders, and others in the HPP industry.
As virtual events, the series will expand ease of access and increase engagement for those interested in HPP and give participants a "sneak peek" into next year's on-site HPP Summit in fall 2019.
The HPP Summit has been a huge draw over the past two years, providing a forum for education and collaboration, while demonstrating how HPP can make a meaningful impact on food and beverage safety and quality. About 400 attendees and more than 40 speakers have presented, and past attendees included industry leaders and influencers such as Subway, Starbucks/Evolution Fresh, Whole Foods, Coca-Cola, Wegmans, Chick-fil-A, Foster Farms, Kroger and Hormel.
The HPP Summit™ Series will offer educational sessions on HPP's role in food safety, extended shelf-life, clean label, as well as creating networking opportunities for attendees. The series will kick off with Manny Picciola, managing director at L.E.K. Consulting, who will discuss the top trends affecting the food, beverage and HPP industry on Oct. 23 at 11:00 a.m.
Other speakers include Shawn Stevens, food industry lawyer and attorney, Joyce Longfield, chairperson, Cold Pressure Council and Jason Paladino, vice president of application development, Berry Global.
"Hosting a virtual series enables us to reach more attendees from North America and around the world in addition to sponsoring additional speakers that are not constrained by their travel schedule. Our speakers bring a wealth of knowledge and experience so we are thrilled to have each of them participate," said Toyin Adon-Abel Jr, marketing director, Universal Pure. "We're really excited about expanding the HPP Summit™ brand and bringing educational content to a wider audience."
Mark A. Duffy, CEO, Universal Pure, said, "The HPP Summit Series is a great way to bring together food and beverage industry leaders to discuss where the industry is heading and to help each other better leverage HPP best practices. It's open to anyone interested in HPP, from manufacturers, retailers, and food service operators already benefiting from the technology to companies interested in learning the basics."
Duffy added, "Universal Pure's 'We CARE about YOU' company value means that HPP is bigger than a process or procedure. We fully recognize what we do, and what this technology does, affects people and families. Food safety is our greater cause at Universal Pure."
The HPP Summit Series will be free for attendees and will run until Oct. 2019. For more information and to register, visit https://universalpure.com/hpp-summit/hpp-summit-series/.
About Universal Pure
Headquartered in Villa Rica, Ga., Universal Pure, LLC is focused on helping companies make and serve refrigerated foods and beverages that are fresh and delicious, and most importantly, safe.
As a customer-centric service provider of high pressure processing (HPP), Universal Pure's four U.S. locations (Villa Rica, Ga.; Lincoln, Neb.; Malvern, Pa.; and Coppell, Texas) and 11 HPP machines in operation make it the nation's largest third-party provider of HPP services.
Companies also outsource with Universal Pure for its other value-added services like cold storage, meal kitting, pre-pricing, code dating and inventory control. Additionally, companies leverage Universal Pure's technical, quality assurance, engineering and cold-chain management resources to help them achieve their business goals by producing fresh, natural, organic, cleaner label and safe products. Universal Pure is purely driven to always look ahead to advance the safety and quality of what we eat and drink. safe products.