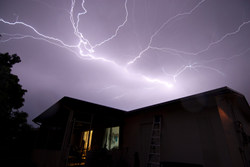 We find that most people don't want to file a claim, and they rarely do; they don't even really know what to look for.
Orlando, Florida (PRWEB) June 11, 2014
According to a recent report from Reuters, the Florida insurance industry is in the best position it's been for a decade. Thanks to eight hurricane-free years and a seller's market in catastrophe bonds, the state is well-fortified against the cost of major storm damage as the 2014 Atlantic hurricane season starts. Shouldn't this mean that homeowners can rest easy, knowing their insurance companies will automatically take care of any damage that occurs? "Not necessarily," says Jared Mellick, President of Universal Roof & Contracting, a leading family-owned company of Orlando roofing contractors.
"When they call their insurance company, most people expect them to automatically just do the right thing--sometimes they do, but many times they don't. The insurance company will have their representative take a look at the damage. Oftentimes they'll just cut a minimal check minus their deductible; or worse, they'll be denied coverage--and typically the homeowner doesn't know any better but to accept it," says Jared. "In dealing with home owners insurance, we find that most people don't want to file a claim, and they rarely do; they don't even really know what to look for," Jared continues. "But all of a sudden, something happens with their house, like a roof leak, and they don't think to attribute it to any particular storm. It doesn't even have to be a severe hurricane that causes damage--it could easily be a smaller storm."
When facing a potential roof repair or new roof in Orlando, to get the most from your homeowners insurance policy you need an advocate on your side to ensure you get the most from your insurance company if you do have storm damage. Universal Roof & Contracting offers a free roof inspection and will assess all damage to determine if your roof really has storm damage. One of their roof experts will even meet the insurance adjuster at your home to point out storm damage.
Before hurricane season shifts into high gear, check out the top 3 ways that storms cause damage and how you can prevent damage to your home:
TIP #1: Check Your Roof.
Pre-existing storm damage can leave your roof vulnerable to more damage. Get your roof inspected now, before the storms hit. You may even find damage that can be covered by insurance, even if it's from a previous year's storm. Regular yearly inspections by a state licensed roofing professional are highly recommended. The repair of damage found early costs much less than a major roof repair or replacement and will prevent the need for expensive interior reconstruction.
TIP#2: Check Your Home's Exterior.
Wind-driven rain is a major source of household storm damage. This occurs when strong winds combine with heavy rainfall within a short period of time. Many homeowners have stucco exteriors that are not thick enough – or they have large surface cracks – and inexpensive or poorly installed windows. These points of entry allow the horizontal wind driven rain to blow into homes resulting in water damage that ruins floors, walls and furniture. Be sure you closely examine the exterior of your home; seal and caulk all cracks in stucco, seal with good quality paint, and properly install high grade windows to ensure a tight perimeter. A good contractor can perform this type of inspection and make necessary repairs.
TIP#3: Trim Your Trees.
We have all seen the damage even a smaller tree can do when it falls on a home. Much of this can be avoided with some precautionary tree trimming. Thin out the branches and remove all dead limbs. This is so important because it takes the weight out of the tree and allows wind to blow through the tree instead of blowing it over onto your roof and home. This will also help preserve the tree you enjoy rather than have it ruined by strong winds. This process can be dangerous so be sure to hire a certified arborist or tree professional.
Getting informed and taking action now will stop, or at least minimize the costly damage that could happen to your home during this season's severe weather.
About Universal Roof
Jared Mellick and his father Ken Mellick are the owners of Central Florida's premier construction company Universal Roof & Contracting, a family-run business which has been serving homeowners in the Greater Orlando area for more than 20 years. Universal Roof & Contracting services include free roof inspections, free no-obligation roof estimates, roof repair, roof replacement, new roof, exterior siding, windows and home improvement including kitchen and bath remodeling. Jared and Ken also host a local radio home improvement and construction talk show on popular Orlando talk radio station WDBO(FM 96.5) called "In the House with Ken & Jared."