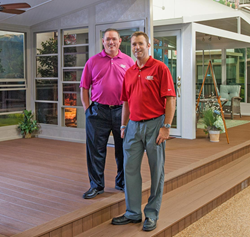 When people want to remodel the exterior of their homes, we have the products to fit their needs — and the expertise to match.
Cleveland, Ohio (PRWEB) September 21, 2015
Universal Windows Direct (http://www.universalwindowsdirect.com), one of the largest providers of replacement window, vinyl siding and entry door products and services in the country has been named #20 on the Qualified Remodeler magazine's Top 500 list, which represents the nation's highest performing remodeling firms. This marks the eighth consecutive year that Universal Windows Direct has received this honor.
CEO and Co-founder William H. Barr attributes the company's unprecedented growth to three key factors: opening new markets, expanding product offerings and streamlining operations.
"Our dealership network is exploding right now, and we anticipate achieving our written goal of 200 locations by 2020," Barr said. "It won't be long before UWD is in every major market in the United States and Canada."
The growth of UWD's network of authorized dealership locations (http://www.yourwindowopportunity.com) has allowed the company to expand beyond its original market of Cleveland, Ohio. As a result, UWD added new products to meet the needs of homeowners in Northeast Ohio and its other growing markets.
"With the addition of products like TEMO Sunrooms™ and Bolt Gutter Protection, we have become the go-to home improvement company for homeowners, not just for today but for as long as they own their homes," Barr stated. "When people want to remodel the exterior of their homes, we have the products to fit their needs — and the expertise to match."
In 2014, additional emphasis was placed on streamlining the company's operations to ensure that UWD was prepared for the level of growth it achieved during that calendar year.
"From sales and marketing to technology, service and support, we focused our company into divisions of highly qualified, trained and dedicated individuals that we knew would help us achieve this remarkable honor," Barr said. "This focus on the corporate structure has allowed us to scale up our operations while keeping prices affordable for the consumer."
Universal Windows Direct will continue its mission in 2015 to become the largest home improvement company in the nation with the addition of company-owned locations and dealer licensees in new markets.
Founded in 1975, Qualified Remodeler was the first magazine dedicated to serving the residential and light commercial remodeling industry. Cygnus Business Media publishes the magazine, which serves more than 81,000 remodeling firms nationwide.