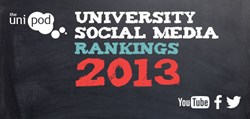 Engaging students across those platforms which today form an integral part of their daily lives is an essential part of any marketing, recruitment and brand strategy. Ignore it at your peril.
London, UK (PRWEB UK) 23 September 2013
London, 20 September 2013
http://www.theunipod.com
Social media is key to student recruitment in the digital age, and a new social media ranking reveals the winners and losers among UK universities. While Oxford University is outperforming the University of Cambridge for fans and followers on Facebook and Twitter, other top UK universities face stiff competition from rivals often ranked lower in the university league tables, as they seek to engage with the next generation of applicants.
Though the Oxford crew may have won this year's Boat Race by a narrow margin, when it comes to social media, theunipod Social Media Ranking 2013 reveals that the university is thumping Cambridge, with over 1.1 million Facebook 'Likes' compared to Cambridge's half a million. Oxford also has 23% more Twitter followers, and though Cambridge can claim more subscribers on YouTube, they will also be aware of Oxford University's success on iTunes with over 20 million downloads in the last four years.
theunipod Social Media Ranking 2013 also illustrates the strong performance of universities often lower ranked in the league tables when it comes to online outreach. The University of Salford and Oxford Brookes University rank fourth and fifth respectively, well ahead of the likes of Bath, Exeter and Bristol.
Salford has attracted over 110,000 Facebook 'Likes' and nearly 20,000 Twitter followers - an impressive global audience in stark contrast to the dismal performance of neighbouring University of Manchester, which ranks 117th in the 2013 results.
1 Oxford University
2 University of Cambridge
3 London School of Economics and Political Science (LSE)
4 University of Salford
5 Oxford Brookes University
6 University College London (UCL)
For full results see http://www.theunipod.com/smranking
How important is social media for universities, in an age of international student recruitment? Chris Larkin, University of Salford's Director of Communications, said: "Engaging students across those platforms which today form an integral part of their daily lives is an essential part of any marketing, recruitment and brand strategy. Ignore it at your peril."
Edinburgh Napier University make it in to the top 10 and Robert Gordon University the top 20, despite their relatively lower positions in this year's Guardian and Complete University Guide Rankings. In contrast, top-tier universities such as Loughborough University, ranked 14th by the Guardian and the Complete University Guide, languish much further down the social media ranking at 78th, with just 12,192 Facebook Likes, 11,982 Twitter followers and 488 YouTube subscribers.

theunipod Social Media Ranking 2013 - Methodology:
In collecting the data for the 2013 ranking, theunipod.com, an online guide for students to choose their university and course, used numbers of Facebook Likes, Twitter Followers and YouTube subscribers. Because many universities use different online strategies, with some using individual Twitter accounts aimed at different groups of students, theunipod recorded data for the groups linked from the university homepage. Where no such groups existed, the top search result from Twitter was taken instead. A weighting was also applied according to student populations, to take into account the fact that a larger student body should lead to higher engagement numbers. The social media data was collected the week beginning 9th September 2013.
For further information, contact:
David Nelkin, theunipod.com
Tel: +44 (0)20 7760 7602
Email: david(at)theunipod(dot)com
About theunipod.com
theunipod is a website for students and university seekers; the place to find their university, college or course, read articles and advice from experts, and keep up-to-date with what's going on in universities and colleges around the country.