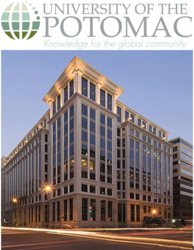 Washington, D.C. (PRWEB) July 02, 2013
Potomac College, a regionally accredited school with campuses in Washington, D.C., Virginia and online, is being renamed University of the Potomac effective August 5, 2013, and will be relocating its Washington, D.C. campus to the city's government and commercial center. This name change has been approved by the District of Columbia Education Licensure Commission in the Office of the State Superintendent of Education.
The school's new "University" status is the result of years of academic growth for the institution. Established in 1991 as Potomac College, the school began offering graduate MBA programs in 2012. In addition, University of the Potomac offers a range of Bachelor's Degree, Associate's Degree, Master's Degree and certificate programs in many of the regions most employable fields including business, accounting, information systems, government contract management and digital forensics. The elevation in Potomac's stature from "college" to "university" acknowledges the continued growth and success of the University of the Potomac while providing students and graduates additional prominence in today's competitive job market.
To accommodate this rapid growth, University of the Potomac will be relocating its current Washington, D.C. campus into the heart of the city's business district. The new campus opening is anticipated in September, at 1401 H Street NW, three blocks from the White House. In addition to providing the latest amenities in a modern setting, the new campus is located adjacent to the McPherson Square metro station, and just three blocks from Metro Center, making it easy to commute to and from classes. Also, the school's new, central location places an abundance of dining options, shopping and hotels within walking distance.
"We are very pleased by University of the Potomac's rapid growth and continued service to working adults in the Washington, D.C. area," said Dr. Clinton Gardner, President for University of the Potomac. "With our new campus situated directly in Washington D.C.'s political and business center, a diverse group of students throughout the region now have a convenient and highly affordable option for advancing their marketability in many of the region's most popular fields."
For more information about Potomac, visit http://www.potomac.edu or call 888-635-1121.
About Potomac College
Potomac College is a regionally-accredited school designed around the needs of working adults. With campuses in Virginia, Washington, DC and online, the college specializes in Associates, Bachelors and Masters Degree programs in high demand fields. The Potomac College curriculum is carefully adjusted to reflect current industry standards for each program, thereby minimizing the number of general education courses and enabling students to delve into their chosen area of study more quickly.
Potomac College is accredited by the Middle States Commission on Higher Education, 3624 Market Street, Philadelphia, PA 19104, (267) 284-5000.
For more information about our graduation rates, the median debt of students who completed the program, and other consumer important information, please visit our website at http://www.potomac.edu