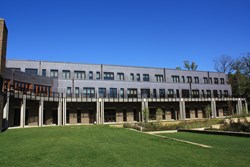 The extraordinary support and loyalty of US alumni, parents and friends make this accomplishment possible.
Cleveland, OH (PRWEB) October 10, 2013
University School leads the nation's independent day schools in attracting philanthropic support, according to the Voluntary Support of Education (VSE) survey, which recently released its final comparison of giving among the nation's most competitive colleges, universities, and independent schools.
For the fiscal year ending in 2012, donors made gifts totaling $17,445,000, placing University School first among all independent day schools and eighth among all independent day and boarding schools nationwide for support. University School is the only day school in the Midwest to be recognized in the top 15. (See attached chart for 2012 breakdown.)
The gifts are part of a $100 million campaign that University School launched publicly in the fall of 2012. Donors have committed $75 million to the effort to date.
The VSE survey is published in the year after the results are compiled. It is the authoritative source of information on giving to higher education and private K-12 institutions in the U.S.
University School Headmaster Steve Murray cited grateful alumni and parents who value the school's strong culture of achievement, its dynamic faculty, and a curriculum that motivate boys to reach higher.
"The extraordinary loyalty and support of our alumni, parents, and friends make this accomplishment possible," Murray said. "Certainly their connections with outstanding teachers and their belief in the academic rigor of US are reasons why they give so generously. They know that University School makes a demonstrable difference in a boy's trajectory."
Murray said donors also believe in the school's direction. "Folks really care about this school," he observed, "and they care about where we are headed. Our bold vision and ambitious strategic plan to strengthen our foundation for future generations have clearly resonated with people."
Donor gifts have supported the stunning transformation of the school's Hunting Valley Campus, which features a new 54,000 square ft. academic wing and state-of-the-art spaces for visual and musical arts. Gifts also support endowments for faculty compensation and professional development, and for financial aid to attract the region's strongest students.
The gifts also support work on a dramatic new building entrance at the Hunting Valley Campus,which will be finished in the spring. A new main entrance on SOM Center Road will be completed in the summer and features the school motto: "Responsibility, Loyalty and Consideration" inscribed in local sandstone.
School leaders are also studying ways to enhance classroom spaces at University School's Shaker Campus (for boys in Kindergarten-grade 8) to mirror the expanding curriculum.
In the VSE survey, University School joined the ranks of top independent schools in the country including Phillips Academy Andover, Phillips Exeter Academy, Choate Rosemary Hall and Lawrenceville School. University School placed higher than Culver Academies and Milton Academy.
For two consecutive years, the Council for Advancement and Support of Education (CASE) has recognized University School as part of its Circle of Excellence awards for improved fundraising.
About University School:
Founded in 1890, University School is an independent day school, educating boys in kindergarten through grade 12. The school's mission is to develop promising and motivated boys into accomplished and independent young men who aspire to make a difference in the world. University School has two suburban campuses in Cleveland, Ohio: the Shaker Heights Campus for boys in kindergarten through grade 8, and the Hunting Valley Campus, which is home to students in grades 9-12. Visit http://www.us.edu for more information.