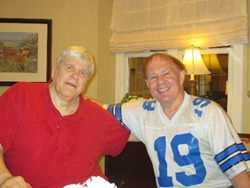 REYNOLDSBURG, Ohio (PRWEB) October 29, 2018
Unknown author Danny Jones has dedicated most of his life, over 50 years, preserving the legacies and memories of 101 all-time legendary NFL players from the past. They could score touchdowns with ease, but they can't seem to find their way into the Pro Football Hall of Fame in Canton, Ohio. Why? His books focus on Pro Football's unsung heroes of yesteryear. They were outstanding athletes who somehow flew under the radar and slipped through the cracks of immortality. These forgotten stars had the talent and credentials to be in the Hall of Fame- but are not. Many of these forefathers were pioneers and trailblazers from the memorable decades of the past. The authors selection of players is impressive: showcasing many colorful personalities and mavericks that were part of the shining eras of the fabulous 50's, glorious 60's, and the party-loving 70's.
Danny Jones' new book, just released in September of 2018, is titled, "Trailblazers and Unsung Heroes: A License to Thrill: All-Time Football Greats of Yesteryear." He chronicles the illustrious careers of 10 superstar players who shaped Pro Football in the 50's, 60's, and 70's into America's game and helped transcend football into a big business. Five of these players were from the AFL. The 10 players in this book are: Frank Clarke, Bobby Joe Conrad, Boyd Dowler, Elbert Dubenion, Cookie Gilchrist, Charley Hennigan, John Jefferson, Keith Lincoln, Greg Pruitt, and George Webster. More details can be found about Danny's books on his website, http://www.starsofthenfl.com.
The 101 icons in these 5 books were the biggest gate attractions in Pro Football along with the Hall of Famers. Jones has examined and provided an in-depth, up-close, and a detailed look at their accomplishments, game and season statistics, and longest touchdowns. No other football books has this information. Danny's 5 books are titled, "Distant Memories," "More Distant Memories," "Lost Treasures from the Golden Era of America's Game," "Heroes of Yesteryear," and "Trailblazers and Unsung Heroes." Books are affordable and are available for purchase wherever fine books are sold. Distant Memories and More Distant Memories are $24.99 each. Lost Treasures is $19.99 and Heroes of Yesteryear and Trailblazers and Unsung Heroes are $13.99 each. All are available in eBook. Ordering information at http://www.AuthorHouse.com or call 1-888-519-5121.
Author Gives Recognition to 101 of the NFL's Best Ever Players
Author Remembers 91 of the NFL's Best Ever Players
Author Gives Recognition to 10 of the NFL's Unsung Heroes of Yesteryear
Book copies are available at Amazon, Barnes & Noble, and other online book retailers.
Notable quotes from some of the NFL stars:
"Sure I miss playing football today, but when I retired it was time. My mind was willing but my body was unable to perform at a level that I need to, due to knee injuries. Football is a short time career, and was a great experience for me." - Dick Anderson
"The NFL was a great stepping-stone to the rest of my life." - Tommy Casanova
"One thing about looking back on my career, the moments were very exciting, and if I had to do it all over again, I would do it the same way." - Harold Jackson
"The 2 fastest things in the NFL during the 60's were the guns- a 22 and a 45." (Referring to Bob Hayes and Homer Jones). - Homer Jones
"The one thing that separates us from any other team that ever won a world championship was that we simply never lost to anyone. We may not have been the best team on paper, but we were the best team every Sunday." - Mercury Morris
"It's a fascinating sport. I think it's the greatest sport in the world. I was privileged to have been a part of that game and to have played as long as I was able to play, and to meet the people that I met and have the experiences that I had." - Lance Rentzel
"Football is a great game. It is a privilege to have been able to play this game. For every single man who has and is playing, there are a thousand who wish they could." - Jack Snow
About the Author
Danny Jones had played amateur and semi-pro football for over a decade in the 70's and 80's. He was a wide receiver and compiled some outstanding statistics during his illustrious career. Danny caught 302 passes for 5,519 yards and scored 66 touchdowns. He scored 15 touchdowns of 40 or more yards. Danny wore #19 like his football hero and idol- star receiver Lance Rentzel of the Dallas Cowboys and Los Angeles Rams. The reason for these books is to give the former NFL stars of the 50's, 60's, and 70's the recognition they deserve so they can be chosen to the Hall of Fame where they should be. Even though it takes an unknown football author like me to try to help them since nobody else would. Hope you enjoy the book.