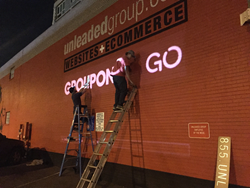 Unleaded Group is particularly pleased to welcome Groupon's new team to our building...we're delighted to watch the Groupon team dominate the food delivery market in short order," Andrew Klein, Unleaded Group VP/Creative Director/Partner
Denver, Colorado (PRWEB) August 18, 2016
The newest tenant on the block is Groupon (NASDAQ: GRPN) at 2314 N. Broadway in the Unleaded Software Inc. building (http://www.unleadedsoftware.com) at the crossroads of Broadway, Park Avenue and Arapahoe Streets. The food delivery service, Groupon To Go™, already offers delivery for more than 100 local restaurants as of its launch this week. Restaurants included on the mobile app are Cuba Cuba, Fat Jack's, Hapa Sushi, Sushi Hat and Tony P's, along with 95+ others who have signed up for the service.
The Chicago-based Groupon has a delivery presence in more than 40 markets. Denver is the second to Chicagoland to offer its Groupon To Go delivery service. Groupon employs five people full-time in Denver and has hired about 50 contract drivers. At launch, Groupon To Go serves mostly downtown neighborhoods, plus LoDo, Capitol Hill, LoHi, Uptown, Five Points, and Cherry Creek.
"Unleaded Group is particularly pleased to welcome Groupon's new team to our building," said Andrew Klein, VP | Creative Director | Partner of Unleaded and co-owner of the building that has been home to Unleaded's website development and design team since 2005. "We were intent upon finding an online industry tenant and we could not have gotten a better, more recognizable brand than Groupon. We're delighted to watch the Groupon team dominate the food delivery market in short order."
The recognizable two-story Unleaded building in Denver's Ballpark District features a mural of the Giant referenced in the iconic fable Jack and the Beanstalk. The Giant is one of the stops on the wildly successful Pokémon Go real-world adventure played on iPhones and Android devices released in July 2016. This week, Groupon To Go's signage announces its presence at 2314 N. Broadway, Denver 80205.
The Groupon sign was painted by Rino Sign Works, a local sign company that has a website developed by Unleaded Group.
Unleaded was founded in 1996 by Jarod Clark, President. Since incorporating in 2004, the premier web development and design firm has built 600+ e-commerce and content-managed websites for local boutique businesses, Fortune 100 enterprise, and everything in between across the world. Unleaded employs senior programmers, developers, designers, optimization experts and sales reps in its Denver office. It also owns a web development firm, Unleaded Software Solutions Private Limited, in Ahmedabad, India where team members work alternate times from the team in Denver, delivering 24/7 service to Unleaded's customers.
"The culture at Unleaded continues to be one of enthusiasm and eagerness to exceed standard web performance. To that end, the walls in our offices have custom motivational signage designed by Andy Klein that say, 'Stay Hungry' and 'Always Be Delivering'," said Jarod Clark. "It's a confluence of ideology that drives both Unleaded and Groupon To Go. We couldn't be more pleased."
Contacts:
Unleaded Software Inc.
Jarod Clark
jarod(at)unleadedgroup(dot)com
720-221-7126 x 202