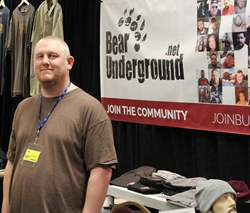 We are particularly proud of Ian and Phil's commitment to BearUnderground.net, as their investment of time and energy directly impacts acceptance and diversity in our immediate community and across the country. - Jarod Clark, Unleaded Software President
Denver, Colorado (PRWEB) August 15, 2016
Web development experts at Unleaded Software donated a percentage of the profit from sales of their t-shirts and caps at Denver's 41st Annual PrideFest weekend to victims of the Orlando, Fla. massacre. Ian Kullhem, CIO of Unleaded Software Inc., and Phil Cardenas, Senior Developer, the longest-term employees of Unleaded, have dedicated five years of their personal time to promoting and growing BearUnderground.net, a social media website for gay men they founded in 2011 that currently boasts 28,000 members worldwide.
"Since the day we launched BearUnderground.net, there hasn't been a day that someone has not joined," said Cardenas. The membership is available all over the world and is free to join.
Kullhem and Cardenas structure their vacation time from Unleaded to be vendors at nationwide Bear (a subset of gay men) events to promote their organization, including TBRU in Dallas and in Tennessee and Orlando most recently.
The fact that they had traveled to a convention in Orlando so near to the massacre killing 49 people and wounding 53 others impacted their sense of duty to contribute to the fund going to the Pulse employees who lived through the deadliest mass shooting by a single shooter. While the owner of Pulse insists she will reopen the club, the club remains closed to date, eliminating the incomes employees once counted on.
Kullhem and Cardenas undertook developing BearUnderground.net to fill an underserved niche in the LGBT community. The two consider Denver's home base gathering place to be The Denver Wrangler, located at 32nd Avenue and Stout Street in 80205, near the Unleaded office.
"We support and value our team members having an avocation outside of work," said Jarod Clark, president of Unleaded Software headquartered in the Ballpark District of Lodo, Denver.
"We encourage our team members to pursue their passions, extracurricular interests and hobbies. We are particularly proud of Ian and Phil's commitment to BearUnderground.net, as their investment of time and energy directly impacts acceptance and diversity in our immediate community and across the country," he added. "I need to point out that the two of them are essential to Unleaded's operations. They own intelligence that makes a difference to our production and reputation. We're particularly thankful to have them on board," he said.
Kullhem was the first developer Unleaded hired and has been with the company more than a decade. As CIO, he oversees web development at the agency and is Magento certified.
Cardenas joined Unleaded nearly eight years ago, coming from the print industry and working his way up in the company to become the senior developer.
Unleaded Software designs and develops Magento e-commerce and ExpressionEngine content managed websites. Since inception in 1996, the company has built more than 600 websites for boutique businesses to Fortune 500 Industry leaders. Unleaded also offers web support, including solar-powered hosting, SEO and digital marketing services, AdWords and Google Shopping management, blogging, marketing collateral design and more.
For information on http://www.BearUnderground.net, contact:
Ian Kullhem
ian(at)bearunderground(dot)net
720-935-9879
For information on Unleaded, contact:
Jarod Clark
jarod(at)unleadedgroup(dot)com
720-221-7126 x 202