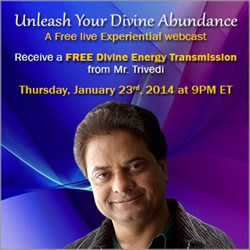 Abundance Is Your Divine birthright. I will show you how to claim what is already yours
(PRWEB) January 17, 2014
Trivedi Global Inc. dba Trivedi Master Wellness™ is going to host a free live experiential webcast called 'Unleash Your Divine Abundance' on January 23, 2014 at 9 PM ET.
On this free live experiential webcast people will:

See the astounding results of the studies that have been conducted on The Trivedi Effect®.
They will learn how tens of thousands of people have reported near-miraculous improvements in their physical, mental, emotional, sexual, spiritual, social and even financial well-being.
They will discover how they can directly benefit in all aspects of their life through Trivedi Master Wellness Programs™.
They will receive a Divine Energy Transmission directly from Mahendra Trivedi which will allow them to immediately start experiencing the miraculous impact of The Trivedi Effect® in their lives.
The Trivedi Effect® is a natural phenomenon through which individuals can transform living organisms and non-living materials so that they can function at a higher level and serve a greater purpose. It involves harnessing of Universal Energy and transmitting it to individuals through the power of thoughts. Mahendra Trivedi and the three Trivedi Masters™ possess the power to create The Trivedi Effect® through their Energy Transmissions. With the help of The Trivedi Effect®, people can strengthen their connection to their inner guidance system. This inner guidance gives people the ability to make the right and confident decisions in all walks of their life.
The Energy Transmissions of Mahendra Trivedi known as The Trivedi Effect® have not just created abundance in the lives of tens of thousands of people. They have also transformed plants, animals, microbes and even non-living materials and has the scientific evidence to prove it. Mahendra Trivedi has undertaken more than 4000 experiments on The Trivedi Effect® in order to authenticate and eradicate the possibilities of the placebo effect. The impact of this phenomenon has been measured, validated and documented in major research institutes throughout the world, resulting in several publications in leading international peer-reviewed scientific journals.
Thousands have reported that Mr. Trivedi's transmissions have improved their business, advanced their careers and transformed their finances. The Trivedi Effect® has even deepened relationships and helped people discover their life purpose. If The Trivedi Effect® can do so much for so many, it can certainly make a difference in the lives of those who will experience the Energy Transmissions from Mahendra Trivedi. 'Unleash Your Divine Abundance' is one of those rare events when people can experience The Trivedi Effect® at no cost and enjoy immense benefits in the days ahead.
To find out more about The Trivedi Effect® or to register please visit http://www.trivedieffect.com/divine-energy-transmission-webcast/. If you know someone that may be interested in this event or would benefit from an Energy Transmission please let them know about this remarkable event.
About Trivedi Master Wellness™: Mahendra Trivedi has the unique ability to create The Trivedi Effect® and has the scientific evidence to prove it. This phenomenon of Energy Transmission has been tested in over 4,000 experiments conducted using stringent methodologies and the most advanced technologies available on this planet. Many results have been published in leading international, peer-reviewed, scientific journals. Each experiment shows significant transformation with consistent results. The resulting changes show that this energy has the remarkable ability to improve the functionality and potential of an individual. Trivedi Master Wellness™ established in 2011 is intended to provide the benefits of The Trivedi Effect® to optimize human potential throughout the world.
Websites: http://www.trivedimasterwellness.com/, http://www.trivedieffect.com/
Call us on: +1-877-493-4092
For inquiries please mail us at: cs(at)trivedieffect(dot)com