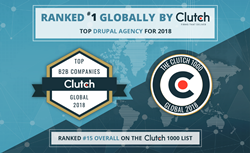 "We have always been committed to steady, strategic growth that is in the best interest of our clients and our team members. While I'm proud of what we've achieved, I'm even prouder of the path we walked to reach this point."
COLUMBIA, Md. (PRWEB) December 11, 2018
Unleashed Technologies, recently named the top Drupal developer in the world by Clutch.co, is rapidly adding team members and will finish 2018 with revenue growth of over 20%. The digital experience agency has hired 13 new team members over the last six months and has also promoted two long-standing team members to new leadership roles within the company.
As part of the agency's strategic growth initiatives, Unleashed Technologies has added expertise to the following teams: Digital Marketing, Project Management, Drupal Development, Front-End Development, Creative & Design, and Operations. Unleashed Technologies new hires include Operations & IT Assistant, John Gerringer; Digital Marketing Manager, Tim Prestianni; Project Manager, Mark Majer; Project Manager, Julie Myers; Web Designer, Kayla Sears; Junior Web Developer, Che Figueroa; Junior Web Developer, Jonathan Strozykowski; Web Developer, James Corrao; Web Developer, Thomas Stermitz; Web Developer, Matthew Zamora; Senior Web Developer, Paul Kim; Senior Web Developer, Janean Elmore; and Senior Web Developer, William Estrada.
Additionally, Unleashed Technologies has promoted Matt Curtin to Creative Director and Colin O'Dell to Director of Technology. "Over the last 8 years, I've seen our team's design expertise continually deepen. As we continue to grow, I look forward to expanding our creative talents and continuing to build intuitive, user-focused digital experiences for our clients," said Curtin. Both Curtin and O'Dell have been with the agency for more than 8 years and will be expanding their roles and impact in 2019.
"2018 has been an incredible year for our team and we're excited to begin the next evolution of our agency," said Michael Spinosa, CEO of Unleashed Technologies. "We have always been committed to steady, strategic growth that is in the best interest of our clients and our team members. While I'm proud of what we've achieved, I'm even prouder of the path we walked to reach this point."
Unleashed Technologies is also celebrating being ranked #15 on The Clutch 1000 in the inaugural edition of the report and being awarded the #1 ranking in the world for Drupal Developers. The Clutch 1000 features the top 1000 B2B companies around the world, ranked by reviews, clients, work portfolio, and brand reputation. Clutch's research methodology takes into account new industry data and verified client feedback to rank the leading companies in its reports.
The full research can be found below:
https://clutch.co/press-releases/companies-exclusive-2018-1000-announced-today
https://clutch.co/developers/drupal/research
About Unleashed Technologies
Unleashed Technologies is a digital experience agency based in Columbia, Maryland that focuses on creating, enhancing, and managing award-winning websites and digital experiences. As a recognized global leader in development and design, our proactive growth model empowers our clients to exceed their goals while integrating our team with theirs. We combine technology, creativity, and strategy to transform your audience from visitors into evangelists.
For more information on Unleashed Technologies: http://www.unleashed-technologies.com