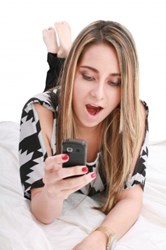 Annual access is our most popular plan for the new unlimited lookups for unpublished numbers.
San Francisco, California (PRWEB) August 23, 2013
Identifying phone numbers is now slated to be simpler for consumers due to changes made by one telecom company online. The iNewsReel.com company has reported the unpublished phone number directory services at the ReversePhoneLookupApp.com website now offers unlimited access to adults at http://www.inewsreel.com/2013/08/14/unlisted-phone-numbers-search-now-unlimited.
This new version of caller identification is providing insight into numbers that are unlisted and unpublished in other systems used by consumers. Adults who are seeking more data concerning the ownership of a phone number could find this unlimited access useful.
"Annual access is our most popular plan for the new unlimited lookups for unpublished numbers," said Scott Davis, marketing manager for the Reverse Phone Lookup App company. This company launched in 2012 and has pioneered reverse phone search technology online.
The published phone numbers that are offered for research online are delivered in two ways using the secure online system. The first method of delivery is an online storage file. This file stores the information researched for six months to allow adults to keep records of past searches.
The second method offered as unlimited lookups now provides reports that can be downloaded or printed to be used offline. These search methods have refined the way that information is obtained from cell phone, landline and prepaid phone records in the U.S.
"The unlisted numbers represents a portion of the data that is returned when adults search our system," Davis added.
The system is now setup to provide data such as caller age, first and last name, street address, origin of call and other details not found when relying on standard telecom systems that often restrict data based on phone carrier privacy opt-outs.
Additional news stories published by the iNews Reel company can be read by visiting http://www.inewsreel.com online.
About iNewsReel.com
The iNewsReel.com website is a 21st century media company now offering daily updates to consumers for the latest products, services and data promoted online. This company has a full-time writing and editing staff who research stories and news points that are not picked up in most major news outlets. The iNewsReel.com company provides its unique news syndication through hundreds of partners on the Internet. This company curates its news stories to ensure that all accessible data remains updated when content changes in previously published news.