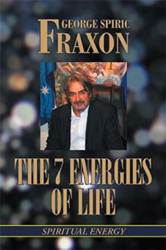 MELBOURNE, Australia (PRWEB) August 15, 2019
According to George Spiric Fraxon, he is a witness and a participant in the discovery of the 'energy (particles) of life', which give life to water, plants, animals, and every living being, from insects to man. For Fracon, his years of research would have been wasted if he did not notice the phenomenon that had been practically 'in front of his nose' throughout humanity and which he wants to share with readers in "The 7 Energies of Life: Spiritual Energy" (published by Xlibris AU). For more details about the book, please visit https://www.amazon.com/Energies-Life-Spiritual-Energy/dp/179600152X.
This book is a work on the discovery of the "Energy of Life." It has been 40 years old, and it reveals the potentials of spiritual energy that has not been known so far. By identifying the power, readers will be able to put all their potentials at the maximum and put into the function of the present moment and a healthy and effective functioning.
The material presented in the book is documented by facts and examples as well as live participants in experiments, photos, videos, and visually registered records, frequencies accessible to hearing, physically sensitive vibrations and specific results.
"The book that is before you will give you a unique feeling that you are on the road of what you have been searching for a long time. You will find answers to many questions. Step by step, day after day, your senses will be 'more open' to the world around you. Turning the page, along the page, you will get deeper into the hidden – actually, what has been there all this time – at your fingertips, but you had not noticed it because you did not know in which direction to look," Fraxon says.
"The 7 Energies of Life: Spiritual Energy"
By George Spiric Fraxon
Hardcover | 6 x 9in | 268 pages | ISBN 9781796001532
Softcover | 6 x 9in | 268 pages | ISBN 9781796001525
E-Book | 268 pages | ISBN 9781796001518
Available at Amazon and Barnes & Noble
About the Author
George Spiric Fraxon is an independent researcher of paranormal phenomena and one of the most famous and best hypnotists in the former Yugoslavia. The current incarnation began in 1952 in Sarajevo. He spent his childhood and youth in his hometown, but his desire for knowledge led him to Ukraine and Russia, where he lived from 1992 to 1999. Staying there allowed him to gain knowledge of hypnosis as therapy. His education in Russia gained him the title of clinical hypnotist. His life path and desire for cadastral training led him to Australia, where he lives today. He is an Australian citizen.