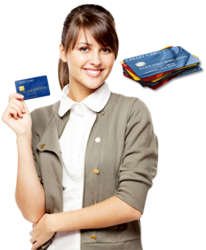 Guaranteed Approval from Credit Help Cards!
Simpsonville, SC (PRWEB) April 03, 2014
Credit Help Cards (http://credithelpcards.com/), an online credit card comparison portal specializing in unsecured cards for victims of bad credit, has announced the return of its instant approval unsecured credit cards with 100-percent application acceptance. According to Credit Help Cards representatives, rebuilding credit history can be a "long and hard process" without the "proper tools," and have found that it's not uncommon to see customers apply for a credit card at their local bank only to be "declined and embarrassed."
To the contrary, Credit Help Cards was founded under the premise that providing legitimate, unsecured major credit cards to applicants as easily as possible is something that should not have taken as long to be realized. In fact, the online company's application process takes less than 60 seconds, with customers presented with multiple options and offers.
"Through a great deal of hard work and strong partnerships we have been able to resume offering our 100-percent application acceptance policy," explains David Anderson, CEO of CreditHelpCards.com. "Taking into consideration that almost any transaction today requires a credit card, we want to make it easy for applicants to qualify."
Credit Help Card's simple application system begins when visitors to the company's site apply for a credit card, where anyone can apply and be approved instantly – regardless of credit score or history. From there, applicants are given the opportunity to choose which credit card they prefer, with choices ranging from VISA and MasterCard to American Express, Discover and all the other major names in the credit industry. Applications are then processed via Credit Help Card's formidable database of the best "bad credit" providers in the world, with each credit association competing with one another for the right to serve the applicant. This offers, according to Credit Help Cards representatives, the "best maximums for the littlest interest and payment rates."
"Credit Help Cards specializes in helping anyone get a great credit card," concludes Anderson. "We have been hard at work to make sure everyone has equal opportunities when it comes to financial safety – which means we make sure all of our clients are treated the way we would want to be treated, with high maximums offered and low, affordable rates that do not fluctuate. Perhaps most important of all, we do not 'trick' our clients with hidden fees or penalties like other credit providers; to the contrary, we fight to help our customers get back on top."
About CreditHelpCards.com
Credit Help Cards is the leading credit card finance provider in USA fully dedicated to help its customers acquire a credit card regardless of credit history. They design and develop customized no credit credit cards, bad credit credit cards, and good credit credit cards. Voted the best for "Quality Customer Service; Best National Credit Cards Service" by thousands of people, their finance experts focus in providing its customers information and various tools available for different credit card offers, help them to choose the best that fits their goals and needs.
Credit Help Cards is located at 655-H Fairview Road Suite 126 in Simpsonville, SC and can be reached by calling (888) 262-3913. For more information, visit http://credithelpcards.com/.