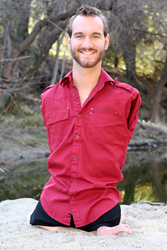 San Diego, CA (PRWEB) January 07, 2016
New Peaks Training (formerly Peak Potentials) is pleased to announce NY Times best-selling author, International speaker and entrepreneur Nick Vujicic (pronounced VOO-yee-cheech) will be joining the cast of power presenters at the National Achievers Congress being held in Phoenix on February 1st and Denver on February 10th, 2016. Along with Nick, the full-day event will feature a lineup of unstoppable speakers sharing their success strategies that include Tony Robbins, the world's #1 life and business strategist, Lisa Nichols of The Secret fame; Real Estate guru Dean Graziosi and Adam Markel, CEO of North America's largest business and personal development firm. Ticket prices start at $97 and can be purchased online at http://www.Unstoppablein2016.com.
Nick Vujicic is recognized by millions around the world for his inspirational messages. Nick was born without arms or legs, yet, he overcame his disabilities to live an independent, rich, fulfilling, and "ridiculously good" life while serving as a role model for anyone seeking true happiness. Now an internationally successful motivational speaker, Nick eagerly spreads his central message: the most important goal is to find your life's purpose and to never give up, despite whatever difficulties or seemingly impossible odds stand in your way.
Nick Vujicic has shared his message throughout Europe, Asia and North America to audiences of up to 20,000. Attendees are always amazed by Nick's abilities and will gain tremendous strength while learning tools for happiness as he shares his formula for living an unstoppable life. Everyone will be inspired to live their lives with more gratitude and even greater passion.
In addition to being a main stage speaker at NAC, Nick will be the keynote luncheon presenter for the Diamond and Platinum level ticket holders where he will expand on his story and take questions.
Presented by New Peaks LLC and Success Resources, the National Achievers Congress (NAC) is a full-day event taking place from 8:30 am – 6 pm in Phoenix, AZ on February 1, 2016 at the Comerica Theatre and in Denver, CO on February 10, 2016 at the Bellco Theatre. NAC takes place globally and is in it's 20th year of presenting international game-changers who share their systems of success.
For more information and to purchase tickets to the National Achievers Congress, visit: http://www.Unstoppablein2016.com