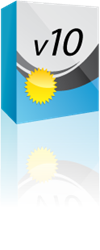 Sunnyvale, CA (PRWEB) September 26, 2013
Untangle, Inc., a network software and appliance company, today announced the release of Untangle 10.0, the latest version of its award-winning multi-function firewall software. Untangle 10.0 is the most significant update to the popular platform in more than five years; 10.0 includes a new application, HTTPS Inspector, as well as a complete refactoring of its networking architecture.
More and more websites and popular apps require users to connect via HTTPS (Hypertext Transfer Protocol Secure), the protocol for secure communications on the Internet. This encrypted traffic presents a challenge to filtering devices that inspect traffic and apply rules based on network usage policy.
Untangle HTTPS Inspector allows for full decryption of HTTPS so that applications like Web Filter, Application Control and Virus Blocker can scan the traffic and apply their rules to it. This enables organizations to ensure that the same level of control that Untangle exerted on non-encrypted HTTP traffic can also be in place with encrypted HTTPS traffic.
Networking Architecture
The Untangle platform's networking layer features a streamlined user interface fronting an optimized architecture with a host of new features. Notable amongst these are enhanced support for IPv6 and 802.1q VLAN tagging.
With Untangle 10.0, network interfaces can now be configured with IPv6 addresses. Wide Area Networks (WANs) can be configured statically or with stateless address autoconfiguration (SLAAC). Non-WAN addresses are configured statically. Router advertisement is allowed on non-WANs.
Untangle 10.0 also supports virtual local area networks via 802.1q tagging, improving Untangle's VLAN support. These 802.1q tagged interfaces are custom "alias interfaces" that appear just like physical interfaces but only handle traffic with the appropriate 802.1q tag. Any packets sent on this alias also get the appropriate 802.1q tag.
Tenth Anniversary
Untangle 10.0 represents a significant milestone in the evolution of the Untangle platform and also marks the tenth anniversary of Untangle, Inc., founded in 2003. Untangle has grown to nearly 40,000 deployments worldwide protecting more than 2 million users. Its revolutionary application-based approach provides industry-leading flexibility in the unified threat management space. The Untangle platform and free applications provide a baseline next-generation firewall upon which its commercial apps expand. Combining advanced content, application and email filtering, along with state-of-the-art virus protection, VPN support and bandwidth management, Untangle provides the most complete solution available in a single installation.
Untangle 10.0 Community Webinar
Dirk Morris, VP, Products and Co-Founder of Untangle, will demonstrate Untangle 10.0 at 10:00 a.m. Pacific on Thursday, September 26, 2013. Register for the webinar.
Untangle, a network software and appliance company, provides the most complete multi-function firewall and Internet management application suite available today. Designed to meet the network policy demands of organizations large and small, Untangle's award-winning software now ships on easy-to-deploy appliances. Untangle's proven network software solutions are installed in nearly 40,000 organizations, protecting more than 2 million people and their computers. With its try-before-you-buy approach, Untangle enables organizations to take control of their network within minutes and at no risk. Untangle is located in Sunnyvale, California. For more information, visit untangle.com or call (866) 233-2296.