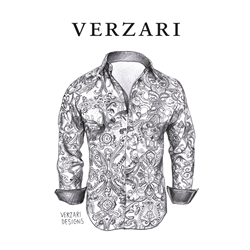 Beautiful Untucked Shirts For Sale at Verzari.com
Houston, TX (PRWEB) August 27, 2014
Verzari.com has created the most beautiful lineup of men's designer shirts specifically made to be worn untucked. These shirts are extremely stylish and have a fitted look that makes any man wearing it look as if they just came from the gym.
There is a zone of acceptable length that is a combination of the size of the man and the design of the shirt and the designers at Verzari.com are intimately familiar with the science of creating the perfect fit for men who want to wear shirts untucked.
Antony Scallone, one of the head designers at Verzari says, "The length of the shirt is critical, it can't be too long or too short, it has to be just right so it goes over the belt area but not low where it covers the pockets."
View the entire collection of untucked shirts for sale at Verzari.com.
Verzari Shirt Features

Made of 100% premium, high quality cotton
Includes two stainless steel collar stays. Verzari never uses plastic!
Hand made and individually inspected. These are not mass produced.
Includes two extra buttons just in case (discreetly sewn on inside)
Unique designs with intricate contrasting fabrics on collar and cuffs
Compare Verzari shirts to Robert Graham and other top men's designer shirts but without the designer price tags.
View Verzari's untucked shirts for sale > http://www.verzari.com/view-all-shirts/.
Read about the Verzari story > http://www.verzari.com/our-story/.