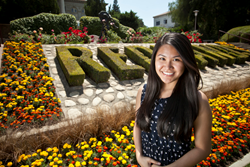 Redlands, Calif. (PRWEB) May 02, 2014
Three University of Redlands students have been recognized with prominent academic, merit-based awards: two of them received Fulbright awrds and one of them was awarded a Boren Scholarship. Kailey DeBoi and Kyle Van de Bittner recently celebrated their graduation from the University of Redlands and have also been selected as 2014 Fulbright Scholars. In addition, the University received its first Boren Scholarship from the U.S. Department of State which was awarded to rising junior Anh Le. The Fulbright awards bring the University's total to 17 since 2008.
The Fulbright Program is a highly competitive, merit-based grant for international educational exchange for students, scholars, teachers, professionals, scientists and artists, founded by United States Senator J. William Fulbright in 1946.
Kyle Van de Bittner a double major in biochemistry and molecular biology will conduct research at Canterbury University, Christ's Church in South Island, New Zealand. He will work in both the biology and chemistry programs to assess the presence of the anti-inflammatory drug diclofenac in surface waters and in fish tissue. He intends to pursue a PhD degree in biochemical toxicology.
Kailey DeBoi a double major in global business and German, with a minor in mathematics has decided to decline her Fulbright Scholar award to pursue and career with Boeing.
The Boren Scholarship is the highest award given to a sophomore student by the National Security Education Program. Established in 1991, The U.S. Department of State awards the Boren to fulfill the need for experts in foreign languages and cultures of other nations. Boren award winners, who continue to perform at a high level are sought after by the U.S. Government for a variety of international opportunities.
Global business major, Ahn Le received last summer a Hanson Summer Service scholarship for work with marginalized children in Vietnam and this summer she will be a Schroeder Summer Language Scholar to China. Already fluent in English and Vietnamese and successfully mastering Mandarin, Le will be in an excellent position for career opportunities with the international arms of the U.S. government.
The University of Redlands has been named twice by the Fulbright Commission as one of the nation's top producers for Fulbright awards. Among more than 1,000 participating institutions, approximately 30 universities and colleges are selected for this award each year.
About University of Redlands
The University of Redlands is an independent, nonprofit liberal arts and sciences university consistently ranked among the best in the nation. Since the University's founding in 1907, Redlands has emphasized academic rigor, personal development, and interdisciplinary studies. A culture of elevated learning provides both undergraduate and graduate students with a holistic education that results in life transformation. Redlands students learn broadly in and outside their disciplines, yet learn equally about service, commitment, life, and the world. As a pioneer in the burgeoning field of spatial learning, Redlands integrates spatial learning across academic disciplines. At the innovative Johnston Center, students have the opportunity to design their own custom major. Home to one of the oldest accredited music programs in California, the School of Music educates musicians in the best of both the liberal arts framework and the conservatory-style approach to teaching musicians holistically. Adults may continue their education or change career directions with programs tailored for working professionals at the Schools of Business and Education, offering evening degree-completion and graduate programs at several convenient Southern California locations.