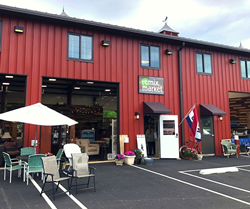 The pieces brought to Remix Market already have a story and history and, by reviving, repurposing or upcycling these items, we are not only reducing what ends up in a landfill but giving these items a new life. – Mark Harrington
WARRENTON, Va. (PRWEB) June 26, 2020
Remix Market in Warrenton, Virginia, is now open and is giving old furniture a brand new life. Rediscover, reimagine, repurpose: That's the name of the game for Remix Market, the sister company of eco-friendly junk removal service, The Junkluggers of Gainesville VA®. Remix Market is a novel concept that is simultaneously a resale shop, upcycling warehouse, creative space, and professional fundraiser.
What's a junk removal business doing selling furniture and other household items? The answer is simple: a shared mission of saving the planet and helping communities. The Junkluggers know it feels good to do good. And they've been doing good since 2004, striving to eliminate 100% of reusable waste from landfills by the year 2025 by donating and upcycling used home goods.
The Junkluggers found that, despite their best efforts, the donation centers and charity partners they work with were not always able to accept every item brought to them. Recognizing a need to house and recycle these items on their own, Remix Market was born.
The Junkluggers of Gainesville VA franchise owner, Mark Harrington, recently decided to open a Remix Market in Warrenton, Virginia, located at 6632 Electric Avenue. The Warrenton warehouse is stocked full of gently used and affordable items including antiques, home decor, quality furniture, outdoor equipment, art work and so much more. Beyond helping the environment, sales from Remix Market help fund the franchise's charities of choice: Mikey's Way Foundation and Inova Children's Hospital.
Remix Market Warrenton is open Tuesday through Saturday from 12 p.m. – 5 p.m., providing a variety of services - from shoppers looking to furnish their homes for less, interior designers looking for a unique piece for a client, to DIYers who want to upcycle furniture. Plus, Remix Market offers community workshops on painting, upcycling, and other furnishing techniques. Both The Junkluggers and Remix Market strive to rescue perfectly good, reusable items from being thrown away, and are working together every day on a mission to directly help the local environment and community.
About The Junkluggers® and Remix Market
Founded in 2004, The Junkluggers provides sustainable junk removal services. This team of big-hearted professionals revolutionized the hauling and removal industry by focusing on green, community-oriented practices as they remove furniture and junk. Remix Market, the sister company, was launched with a grassroots team effort and has grown from weekend garage sales to the 5,000 Square foot warehouse in Warrenton.
For more information, please visit http://www.junkluggersofgainesville.com. Follow Remix Market Warrenton on Facebook @Remixmarketwarrenton and Instagram @remixmarket_warrenton