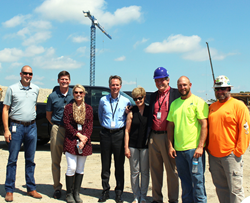 Once completed in late 2020, the new building will stand at approximately 143 feet tall and cover 302,239 square feet.
OVERLAND PARK, Kan. (PRWEB) August 07, 2019
In appreciation of the JE Dunn Construction crew working on the campus expansion at 95th and Metcalf, Shamrock Trading Corporation provided a catered BBQ lunch from local restaurant, Q39.
The progress has been great so far, with the first slab of concrete for the tower already poured and the rock placed. Precast panels have also started going up and will start to take shape. The North parking lot has been graded and will be paved soon to hold the steel for the project.
The most visible part of the project is currently the tower crane, which stands 191 feet tall and can swing 360 degrees. Once completed in late 2020, the new building will stand at approximately 143 feet tall and cover 302,239 square feet.
Shamrock would like to again say thank you to all those involved in the ongoing success of the project, including the entire JE Dunn Construction team, the Overland Park community, Mayor Carl Gerlach and Shamrock CEO Bill Ryan.
This release is part of an ongoing series of updates on the Shamrock Trading Corporation campus expansion in the heart of Overland Park. For press inquiries, please email pressinquiries(at)shamrocktradingcorp.com.
About JE Dunn
JE Dunn Construction has been a leader in the construction industry since its founding in 1924. Specializing in construction management, program management, and design/build projects of every size. We exist to enrich lives through inspired people and places. We enrich lives through our community service, employee development programs, and most importantly through the people who use the buildings we have the privilege of building.
About Shamrock Trading Corporation
Shamrock Trading Corporation is the parent company for a family of brands in transportation services, finance and technology. Our story began in 1986 with Ryan Transportation, a freight brokerage serving agriculture and commodity shippers. Over the past three decades, we've expanded to serve our customers' growing needs, now offering transportation and financial services to companies across several industries in more than 40 countries. Headquartered in Overland Park, KS, Shamrock also has offices in Chicago, Dallas, Midland and Nashville.
Shamrock Trading Corporation | Ryan Transportation | RTS Financial | RTS International | RTS Carrier Services | ProTransport