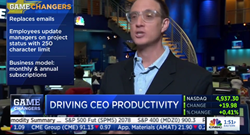 We give executives simple, clear, beautiful visibility into the status of everything important their people are working on, and we do it by emphasizing minimalism.
Montclair, NJ (PRWEB) April 20, 2015
Serial entrepreneur Paul Ruderman launched his newest venture, UpdateZen, in December 2014 and has already seen 40% month-over-month growth of paying customers in the 4 months since launching. UpdateZen simplifies status reporting for CEOs, high-level executives and business owners. Project updates are capped at 250 characters, so they include only what's absolutely essential, and all updates are presented in one beautiful interface available on iPhone, the web and soon, Android. The manager pays one subscription fee, and then can add as many team members as he or she likes.
While many of the latest productivity apps are exclusively targeted at corporate executives, UpdateZen has been enthusiastically adopted by both traditional corporate executives and leaders from a wide range of business sectors. The status reporting solution has nearly 1000 users in its paid tier, and these users include a diverse array of executives including education administrators, healthcare administrators, religious leaders, and nonprofit executive directors.
"The one thing our users all have in common is that they were all in dire need of an effective way to streamline their status reporting," Paul Ruderman, UpdateZen's founder and CEO, said. "No matter what business you are in, once you get to a certain level of management, you need a method to effectively organize and simplify status updates from each of your team members. We give executives simple, clear, beautiful visibility into the status of everything important their people are working on, and we do it by emphasizing minimalism. In so doing, we substantially reduce information overload for everyone."
UpdateZen does one thing and it does it really well. It simplifies status reporting. It ensures that executives have one place to go to always see the latest status of anything important their people are working on.
One UpdateZen feature that has been a favorite among users in all business sectors is multi-person visibility. With multi-person visibility, multiple team leads (perhaps a CEO, two VPs, and a Director) can have visibility into project updates from a single team member. This means that a team member can be on multiple teams in UpdateZen, and when he writes an update, he'll know that all his team leads will be able to see it, acknowledge it and if desired, comment on it. And all team leads can see each other's feedback.
UpdateZen is available as both an iPhone app and on the web, and will soon be available as a native Android app as well. The app is offering the first 1,000 customers a 25 percent lifetime discount. Monthly subscriptions are $14.99, while a yearly subscription is $149.99 and includes two free months. Only the manager pays the subscription fee, and then he or she can add an unlimited number of team members at no additional cost. Those interested can start a free 30-day trial today by visiting http://bit.ly/UpdateZenTrial.
ABOUT UPDATEZEN
UpdateZen's core team was built around a passion for solving big, real-world problems. They are obsessed with finding efficient ways for teams to communicate, and love exploring design and technology. The UpdateZen team is led by Paul Ruderman, a serial entrepreneur and technology executive. UpdateZen is Ruderman's second startup. He co-founded LiveProcess in 2005, and spent eight years building the company into the leading emergency management software solution for the healthcare industry. UpdateZen is based in Montclair, NJ, just outside of New York City. Learn more at http://www.updatezen.com/.