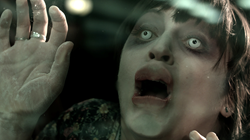 "I've been to more funerals than most people I know and to cope with death as such a prevalent part of my life, I set out to explore the humor in it," says UCB Comedy director Todd Bieber.
New York, NY (PRWEB) October 22, 2014
UCB Comedy, the virtual home of the Upright Citizens Brigade, is pleased to announce a new original series, and its largest scale production to date, "Gary Saves the Graveyard."
Written in the tone of "Ghostbusters" and "Shawn of the Dead," the story follows Gary (Jim Santangeli), a newly appointed groundskeeper who is reunited with his best friend from high school, Andy (Tallie Medel). There's only one problem – she's been dead for 20 years. Soon Gary learns he's in for one helluva first day when 235 living corpses escape from the graveyard and put the whole town, and his job, in jeopardy.
For a sneak peak of "Gary Saves The Graveyard," check out the trailer here.
The original comedy series has been named an official selection of the 2014 New York Television Festival's Independent Pilot Competition. It will also be screened at the Upright Citizens Brigade Theatre in New York.
The zombie comedy, or zom-com, features a talented cast of UCB performers including: Nicole Byer (MTV's Girl Code), Nate Dern (Time Out of Mind), Shannon O'Neill (Broad City, The Chris Gethard Show), and Tallie Medel, who was named by Indiewire as one of the top 10 female lead performers of 2013.
"Gary Saves the Graveyard" was written by Todd Bieber, Kristy Lopez-Bernal, Laura Grey, Zack Phillips, and Avery Monsen (best-selling author of "All My Friends Are Dead").
The series tackles subjects of death and legacy through the lens of comedy. Todd Bieber explains, "I've been to more funerals than most people I know and to cope with death as such a prevalent part of my life, I set out to explore the humor in it."
When asked about his inspiration, the filmmaker says, "I had a friend die in high school, and I thought, 'What would it be like to hang out with him today, 20 years later? Would we still be friends?'"
Bieber, who also directed the series, turned to his hometown area, Lewisburg, Pennsylvania, to feature its historic gated cemetery. Locals from Mifflinburg, Pennsylvania, were cast as the living dead, and the town assisted in the shoot. "It was a dream come true to close down the main street of my town and do a car chase," says Bieber.
"Gary Saves the Graveyard" will premier October 27 at youtube.com/ucbcomedy.
A new episode will be available every day leading up to the finale on Oct 31.
ABOUT UCB COMEDY
UCB Comedy is the virtual side of the Upright Citizens Brigade, releasing funny original videos every weekday on their YouTube channel. They made national headlines with their "BP Spills Coffee" video, which was featured on the Rachel Maddow Show and shown to BP's Managing Director during a PBS interview. UCB Comedy's Digital Teams produce some of the Internet's best web series, short films, music videos, news reports, animated comedy, sketches and parodies, all featuring the talented performers, writers and filmmakers of the UCB.
ABOUT TODD BIEBER
Todd writes and directs videos - mostly comedy and documentary, or some combination of the two. He is currently Creative Director for UCB Comedy. Previous to this he worked at the Onion News Networks during their Peabody Award Winning year. One time Todd found a roll of film in Brooklyn that led him on a worldwide search for the owner. He documented his experience and TIME Magazine called it "Youtube's Greatest Adventure" and ABC News called him a real life international man of mystery. His work has been featured in several film festivals including Sundance, SXSW, Tribeca, and AFI. His video/film work has been watched over 25 million times and has been featured on New York Times' website, Entertainment Weekly's website, Huffington Post, and his Mom's Facebook Wall.
His current project is the original series "Gary Saves the Graveyard."