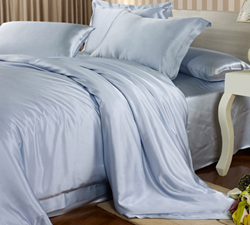 We promise that all the materials we use are Grade A mulberry silk fabrics.
Houston, TX (PRWEB) March 17, 2014
Lilysilk, a well-known manufacturer and retailer of silk bedding wares, has recently proudly announced 10% off discounts on silk bed sheets for customers worldwide. Customers would like to change their thick bedding into lightweight and breathable silk sheets for ultimate comfort.
Lilysilk is dedicated to designing and manufacturing high-end and upscale silk bedding wares, which include silk bed sets, silk comforters and duvets, blankets and mattress toppers, and many people are impressed by their elaborate design and craftsmanship. High-quality and greatly discounted prices (For instance, one of their bed set (item code: LSBS02), 19MM Seamless Silk Bed Set Queen Size, was previously priced at $412, and now it is offered at a new discounted price of $370.8) make them very attractive on the market.
"We have nearly hundreds of silk bedding wares in stock, and they are available with various sizes and colors. And this time, we launch a Spring Sale, offering discounted prices of silk bed sets, silk pillowcases and silk pajamas for a limited time only. We promise that all the materials we use are Grade A mulberry silk fabrics. Customers could feel assured to purchase at our store, because we will offer you a wonderful shopping experience." says Mike Lee, CEO of Lilysilk company.
Customer Angela said, "These bed sheets are wonderful...and such a great deal...I normally can not afford silk, but purchasing them from this company makes me want to buy all the colors!! Two Thumbs UP!!!"
About Lilysilk
Lilysilk specializes in the manufacture and retailer of high-end silk bedding wares and silk pajamas. Good customer service, high-quality, fast delivery, and competitive prices, are the reasons to choose Lilysilk.
For more information, please visit: http://www.lilysilk.com/.