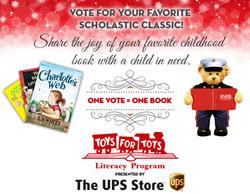 This effort is a fun, easy way for our supporters to make a lasting impact on children in need, even after the holidays are over.
(PRWEB) December 16, 2013
Who didn't love curling up with Charlotte's Webb or hearing about the many misadventures of Peter Rabbit as a kid? Now you can pass on the joy of reading this holiday season to a child in need. Last week, The UPS Store launched "Vote For Your Favorite Scholastic Classic," a social media campaign that invites fans and followers to vote for their favorite Scholastic Classic Books title, and UPS will send the same title to a disadvantaged child.
Through December 20, vote for your favorite Scholastic Classic title and a child in Toys for Tots Literacy Program will automatically receive that book. The list includes early reader favorites The Secret Garden, Make Way for Ducklings, Charlotte's Web, Stone Soup, The Tale of Peter Rabbit and Three Little Pigs. To help empower more children than ever through the power of reading, The UPS Store and Marine Toys for Tots Foundation are teaming up with CafeGive Social, a social media apps and cause marketing solutions company.
CafeGive helps make it easy to give the gift of reading with just a simple click. Using CafeGive's Voting App, The UPS Store was able to turn Facebook into a powerful literacy campaign. Not only does each vote trigger a donation of the same book, but each vote also updates a virtual bookshelf in real time, showing progress towards The UPS Store's 1,000 book goal.
After voting, fans and followers can help fill the bookshelf by simply promoting the Scholastic Classic campaign through Twitter and Facebook. Using the Voting App's built-in social sharing features, Toys for Tots and The UPS Store fans can easily help spread the word about this life-changing initiative.
At over 500 votes the campaign is already half-way towards its online goal, and is counting on its online community to share and re-tweet the campaign.
In many low-income communities there is just one book for every 300 children, per Handbook of Early Literacy Research. Disadvantaged students in the first grade have half of the vocabulary of their peers, and are 3-4 times more likely to drop out of school in later years.
Reading can change that. Children who start reading at a young age are overwhelmingly more likely to score well on tests, go to college, and to encourage their children to read. Every time someone votes in the Scholastic Classic campaign, they turn a page in the lives of of children in low-income neighborhoods across the U.S.
"This effort is a fun, easy way for our supporters to make a lasting impact on children in need, even after the holidays are over," said LtGen Pete Osman, USMC (Ret), President and CEO of the Marine Toys for Tots Foundation.
After voting in the campaign, supporters can double their impact by donating funds and books to participating The UPS Store locations and The UPS Store Facebook page.
About CafeGive Social:
CafeGive is the only company that combines social media marketing with meaningful, action-oriented cause marketing applications. Using our product, CafeGive Social, we have helped companies, agencies and nonprofits of all sizes connect with customers to build brand, enhance reputation, raise awareness and effect social change. Headquartered in Portland, Oregon, CafeGive is a privately held company. For more information, visit http://www.cafegive.com.
About the Marine Toys for Tots Foundation
The Marine Toys for Tots Foundation is a not for profit organization authorized by the U.S. Marine Corps to provide fundraising and other necessary support for the annual Marine Corps Reserve Toys for Tots Program. Now in its 66th year, Toys for Tots provides joy and a message of hope to less fortunate children through the gift of a new toy or book during the holiday season. Many of the books, games, and sports equipment that we provide as gifts make a significant contribution to the educational, social and physical development of these children. In 2012, Marines distributed toys to more than 7.1 million children who might not have otherwise experienced the magic of the holiday season. For more information about Marine Toys for Tots Foundation, visit http://www.toysfortots.org
About The UPS Store
With more than 4,300 locations, The UPS Store network comprises the nation's largest franchise system of retail shipping, postal, print and business service centers. The UPS Store locations in the U.S. are independently owned and operated by licensed franchisees of The UPS Store, Inc., a subsidiary of UPS. Services, pricing and hours of operation may vary by location. For additional information on The UPS Store, visit http://www.theupsstore.com.