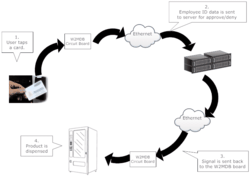 The W2MDB interface combines the convenience of the employee ID Badge for vending machine purchases." - Chris Smolen Upstate Networks President
Utica, NY (PRWEB) July 08, 2013
Upstate Networks, Inc.(UNI), a computer engineering, design and manufacturing firm announces the launch of a Weigand RFID security badge to interface with the vending industry standard MDB.
The Weigand to MDB interface product is a hardware interface installed inside the vending machine and connects to a RFID proximity reader mounted on the front of the vending machine and connects to central server using a standard internet connection. The server software is custom built and contains various options for approval, tracking and billing.
RFID proximity reader models currently supported: GE and HID 125 kHz Proximity readers. GE model T-520SW.
W2MDB specifics:
Power 750mA 24 VDC
Physical: 6" x8" x 1"
Connections:
6 pin Molex (MDB)
8 Pin terminal post (Weigand)
RJ-45 (Ethernet)
USB type A (Data access/programming)
Perfect for employee vending machine access.
Student body.
Any Weigand proximity card badge system.
Web addressable.
Custom Server backend.
"The W2MDB™ interface combines the convenience of the employee ID Badge for vending machine purchases," said Chris Smolen Upstate Networks President. "A simple, yet powerful, convenience for employees and management alike. Rewards, incentives and purchases are completely managed, using the Weigand to MDB."
For more information about the Weigand RFID Security Badge, a project sample, documentation or any of UNI's products, please call 1-800-369-5797 or e-mail PR(at)upstatenetworks(dot)com.
About Upstate Networks
Located in Utica, NY, Upstate Networks, Inc. is a computer engineering, design and manufacturing concern founded by President Chris Smolen in 1994. Upstate Networks manufactures hardware and software designed to interface vending products to PCs and other general-purpose computers, and works with manufacturers to develop novel vending and other self-service pay-per-use equipment. In doing so, Upstate Networks continues to be the world leader in PC-controlled vending:
May 21, 2013 - Unveiled the PC2ASDAPI Library, a new programming resource to integrate smart phones, tablets and phablets with unattended vending machines and payment systems. Targeted to Android developers, UNI's PC2ASDAPI Library is a software package that enables the use of common USB-to-serial adapters and features UNI's PC2ASD™ circuit board, which can be used with devices running Android 3.1 and above supporting USB host mode. The PC2ASD™ replaces the keypad on a vending machine with an Android-based interface. This allows the Android device to control the item selection process.
May 09, 2013 - Released a proof of concept demonstration of patent-pending vending technology featuring the first-ever vending machine purchase using Bitcoins with change returned in USD.
April 9, 2013 - Issued U.S. Patent 8,417,376, which provides a method and means for utilizing transparent LED touch screens for selecting products and services in retail environments. This technology allows the user to view a number of products at the same time through the glass display, select one or more for investigation, choose one for removal from the display, and deliver the chosen item to a user.
January 26, 2013 - Announced the option of conformal coating for all its PCB products. Conformal coating material is applied to electronic circuitry to act as protection against moisture, dust, chemicals, and temperature extremes that, if uncoated (non-protected), could result in damage or failure of the electronics to function. When electronics must withstand harsh environments and added protection is necessary, Upstate Networks Inc. coats assemblies with a layer of transparent conformal coating rather than potting.