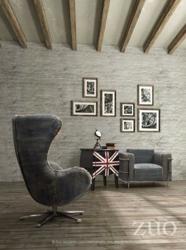 Including original wood detailing - from wood floors to barn beams or storm shutters - is another great way to play up the rugged, rustic character of an industrial urban loft.
(PRWEB) July 08, 2013
HomeThangs.com – the Online Home Improvement Store has made their goal to deliver the right product to the consumer. With that in mind, shopping and home design tips, as well as special product selections are being introduced.
Modern design has always favored wide, open spaces, and it's a preference that's had a huge impact on contemporary home design. Homeowners are knocking down walls and barriers to create huge, sun-soaked great rooms and integrated spaces. For those that love these big spaces but prefer a more antique style, HomeThangs.com has introduced a guide to an industrial loft style, which populates simple, open modern spaces with weathered antique accent pieces.
Reclaimed industrial lofts are becoming hugely popular in urban areas, where hundred year old industrial buildings are re-purposed to suit the rigorous housing needs of densely populated areas. These spaces are ideally suited to a modern aesthetic. Often almost entirely barrier free, they create a huge, open, flexible space. The presence of large windows, luscious exposed brick and stone, as well as hundred year old wood floors, beams, and other accents gives them a warm, historical ambiance that most modern spaces lack.
Cold concrete might not seem like the most inviting material, but it's one that works well with an industrial style. Concrete floors are sturdy underfoot but easily dressed up with accent rugs (which can help visually divide a very large space into discrete living areas), while original concrete walls – especially very old ones – can give a room a totally unique urban/rustic ambiance. Exposing the original wall and floor materials allows the history of the space to shine through while highlighting the reclaimed (and maybe slightly unfinished) aspect of the space.
Including original wood detailing – from wood floors to barn beams or storm shutters – is another great way to play up the rugged, rustic character of an industrial urban loft. Original materials of all kinds should be maintained wherever possible, but wood accents are easily enhanced by other reclaimed antique decor. Because of the growing popularity of reclaimed wood – from ship hulls to wine barrels – accents made from salvaged antique wood should be simple to find and incorporate into an industrial loft.
Of course, most converted loft spaces weren't originally intended for habitation, and in fact might even be divided into multiple floors where originally there was only one large, open space. Consequently, many industrial lofts contain exposed features. Beams and pillars, of course, are necessary for keeping such a large space open without walls, but see exposed ventilation, covered electrical lines, and plumbing (including radiator plumbing and sprinkler systems) are also commonly left exposed. Rather than an eyesore, these, too, help accentuate the original character of the space.
There are two main schools of thought when it comes to decorating an industrial loft space. The first and more modern of the two is to use simple, sleek, newer modern furniture with clean lines to stand in sharp contrast to the decadent urban decay. Alternatively, the rough and tumble appearance of the reclaimed space can be played up with reclaimed or inherited furniture, antiques and flea market finds, or even high end furniture that's strategically designed to look weather worn. Rather than creating contrast, reclaimed wood furniture, roughed up fabrics, and antique lighting fixtures (especially if they match the original purpose of the space, like pulley lights) can really help enhance the character of an industrial loft.
To find out how to get some of these great looks, read the full article here, or check out more great furnishings from Zuo Modern.
HomeThangs.com is not only a home improvement superstore, it also provides expert design tips and a comprehensive shopping guide, taking the ideas from professional interior designers, and offering tips to the consumers on how to pick the products to best suit their needs.