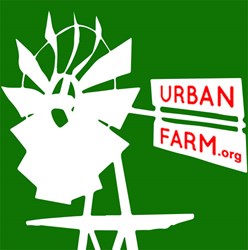 'My favorite edible landscape plant is the fruit tree, because you plant it once and it produces fruit for many years,' says Greg Peterson, Owner of the Urban Farm.
Phoenix, AZ (PRWEB) September 26, 2013
The mystery was there. Why could someone go into a plant nursery and purchase a fruit tree, expecting that it would be one that actually produced fruit, and be sold a fruit tree that never would? When Peterson inquired, he was told, "Well that is what corporate sends us and those trees are for a colder climate." Incensed, he set out to learn, and ultimately teach others, how to grow their own fruit trees in the desert. Take a fruit tree class here.
What started as a goal in 1999 to plant and manage 500 fruit trees in the central Phoenix area has turned into an education program that has planted many thousands of fruit trees here in the Valley of the Sun. Each year Peterson places an order for his trees in June, usually numbering around 500 to 1000 trees, and then in September begins offering classes on how to grow your own urban orchard. In each class he covers the ins and outs of finding, planting, watering and nurturing a fruit tree or an urban orchard. The attendees then have the opportunity to purchase fruit trees for their yard that are available for pick-up in January.
"My favorite edible landscape plant is the fruit tree, because you plant it once and it produces fruit for many years," says Greg Peterson, Owner of the Urban Farm where over 60 fruit trees decorate his 1/3 acre property near downtown Phoenix Arizona. Becoming an urban farmer can be as easy as planting your first fruit tree. Peterson explains, "My goal was to plant a range of fruit trees so that I could harvest fresh fruit every month of the year. And for the most part I have accomplished that."
Learning to grow fruit trees is just a process according to Peterson. One that if you follow the simple steps outlined in his Urban Fruit Trees class, there is a good chance for fruit tree success. Topics covered in the class include selecting the proper tree, urban fruit tree management, watering, planting and the single most important question to be asked -- the one the nurseries often won't tell you -- that you need to ask before you invest in fruit trees.
By visiting UrbanFarm.org you can download a free Backyard Orchard Culture report designed to assist you in the planning and understanding of how to plant fruit trees in your urban landscape. Peterson will be presenting classes through Root Phoenix, The Valley Permaculture Alliance, at Whole Foods and at other venues around the valley between now and the end of November. Visit the calendar at UrbanFarm.org for exact dates and times.
About Urban Farm
UrbanFarm.org is the home of a wide range of urban farming resources, education, tips and the 10,000 Urban Farms Project, which was created to discover a farm on every street. Founder Greg Peterson began gardening in Phoenix, Ariz. in 1975, discovered permaculture in 1991 and dubbed his personal residence in central Phoenix, The Urban Farm, in 2001. Peterson earned his Master's in Urban an Environmental Planning from Arizona State University in 2006. His long history of environmental learning and growing food in the city contributes to the success of UrbanFarm.org. Peterson wrote and published The Urban Farm Simple Sustainability Series, sits on the board of Native Seed/SEARCH and teaches the class Sustainable Food and Farms at Arizona State University. To find out more visit http://www.UrbanFarm.org.