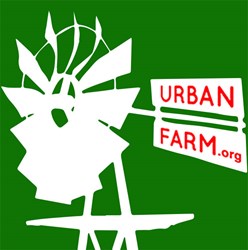 'We are in the midst of a food revolution. People are hungry for information about food nutrition, organic gardening, and genetically modified foods,' says Greg Peterson. 'UrbanFarm.org is here to assist readers in creating their own Urban Farm.'
Phoenix, Arizona (PRWEB) September 26, 2013
Greg Peterson and The Urban Farm Team are pleased to announce the launch of their free e-newsletter, Urban Farm Lifestyle. The newsletter is intended for urban growers with all levels of experience, from aspiring newbies to seasoned planters. It provides a platform to learn and understand the ins and outs of growing food in urban areas via bimonthly articles, tips, and resources for creating one's own urban farm. Readers will learn about topics such as; finding GMO-free seeds, planting seasons, making compost, transforming one's front or backyard into a flourishing edible garden and much more. Sign up for free at http://learn.urbanfarm.org/newsletter.
"We are in the midst of a food revolution. People are hungry for information about food nutrition, organic gardening, and genetically modified foods or GMO's," says Greg Peterson, founder of UrbanFarm.org. "When asked what do you mean Urban Farmer? I say, hey being an urban farmer is easy… grow food, share it with someone and name your farm." Naming a farm is important as it brings life to your farm and builds community. Growing food in our neighborhoods also builds community and strengthens the local food system.
According to Peterson, "The notion of an urban farmer is just a subtle shift from casual gardener and encompasses the intent to grow food to share with our communities."
UrbanFarm.org is the platform to educate, motivate and help those who live in urban areas to discover their own inner farmer. The newsletter content will be provided by everyday urban farmers who are passionate about what they do and want to share their knowledge. This includes Peterson himself, who is well-known in the Phoenix area and beyond for his residential urban farm in which chickens abound, over 60 fruit trees decorate the landscape and vegetables and herbs thrive throughout what is know as his edible landscape.
The Newsletter will feature articles on a variety of topics including: the benefits of growing food; directions for creating front yard edible landscapes; book reviews; spotlight on innovative initiatives in urban farming; how to keep chickens and other urban livestock plus solar and water collection systems. Additionally each issue will contain updates on Peterson's "New" Urban Farm in a small townhouse in Phoenix, where he is demonstrating to the world that urban farming is possible anywhere, even in the smallest of homes.
The newsletter is free for the public and accepts article contributions from anybody with passion for urban farming and a willingness to share about it. Sign up for your copy of the Urban Farm Lifestyle Newsletter at http://learn.urbanfarm.org/newsletter.
About Urban Farm
UrbanFarm.org is the home of a wide range of urban farming resources, education, tips and the 10,000 Urban Farms Project, which was created to discover a farm on every street. Founder Greg Peterson began gardening in Phoenix, Ariz. in 1975, discovered permaculture in 1991 and dubbed his personal residence in central Phoenix, The Urban Farm, in 2001. Peterson earned his Master's in Urban an Environmental Planning from Arizona State University in 2006. His long history of environmental learning and growing food in the city contributes to the success of UrbanFarm.org. Peterson wrote and published The Urban Farm Simple Sustainability Series, sits on the board of Native Seed/SEARCH and teaches the class Sustainable Food and Farms at Arizona State University. To find out more, visit http://www.UrbanFarm.org.