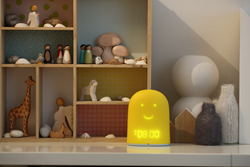 Paris, France (PRWEB) October 14, 2015
UrbanHello, the design team behind REMI, will be launching their crowdfunding campaign on Indiegogo starting October 21 with a goal of raising $50,000 in order to bring the idea of REMI to fruition. REMI is a customizable sleep companion for children that trains them when to go to sleep and when to wake up with alarms, lullabies and color changing lights and faces, as well as alerting parents with notifications via a mobile app.
REMI is a gumdrop-shaped night light that fits perfectly on any nightstand next to a child's bed. Parents can set alerts to develop customized sleep routines for nighttime and naptime with lighting, music and more. REMI also provides parents with multiple ways to check in on their child's sleep status; the walkie-talkie capabilities allow it to act as a two-way baby monitor and the app creates a sleep diary of their child's sleep patterns.
REMI is not only fun for children, but is conducive for parents of all types whether they're stay-at-home parents, working parents, parents of one or parents of multiple children. The smartphone and Bluetooth capabilities allow REMI to connect to all tablets, iPhones and Android phones, giving parents the ability to operate REMI from a different room, check in on their child, track sleeping patterns and share tips with friends.
While REMI has endless convenient features, the mobile app is what sets REMI apart. The app's features include, but are not limited to the ability to:

Receive detailed information about a child's sleep patterns
Set up alarms and alerts for children to know when it's ok to get out of bed
Operate multiple REMI devices for different children simultaneously
Listen and talk directly to children
Customize REMI's lighting color and intensity
Set REMI's date, time and other settings
Record lullabies, play REMI's sounds or upload a child's favorite song
Share bedtime tips and tricks on Facebook
REMI can be helpful for families in any situation. From families with newborns who want to start sleep training early to a family with little ones who habitually wake up at 4:00 AM, REMI seeks to provide the information parents need to get their children on a healthy routine. No matter the situation, REMI can improve bedtime for all families.
The earliest backers will be able to pre-order their very own REMI for only $45, which is 55% off the retail value. For anyone with one child to three or four, there are many perks available that are sure to fit any family's needs. For more information about REMI, visit http://www.urbanhello.com.
About UrbanHello
Founded in 2012, UrbanHello is a team of parents and entrepreneurs working to invent the everyday objects that families need. With over 40 years of combined experience, the UrbanHello team seeks to incorporate engineering and design experience with daily needs in order to bring families new technology innovations for easier, better living. For more information, visit http://www.urbanhello.com.