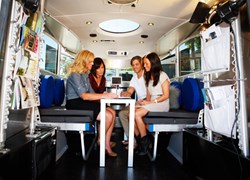 Everywhere we go we generate enthusiasm and interactivity among residents.We did our first mobile closing on Friday where our clients signed in the Airstream in front of the house they were buying. We had a crowd around us by the time we were done!
Denver, Colorado (PRWEB) October 06, 2013
Inspired by the food truck movement, Urban Luxe Real Estate unveils Denver's first mobile airstream real estate office.
'Location, location, location' goes the mantra. While this still rings true when purchasing real estate, the business of real estate has moved out of the realm of traditional office space. Instead of meeting at an office to discuss real estate or sign contracts, savvy Realtors, Buyers and Sellers use the internet, email, tablets, smartphones, Skype, Facebook or Twitter. Real estate is a mobile business and nothing symbolizes mobility more than Airstream.
"People relate the Airstream brand with fun and engaging activities, so we created the Urban Luxe Mobile Office as a 'conversation starter' - an approachable environment with fun, interaction, and learning," says Heidi Finn, Owner of Urban Luxe Real Estate. "The relaxed outdoor setting provides ample opportunities for people to get to know us on a more personal level and see if we're a good fit to work together."
Urban Luxe Airstream makes stops throughout the city to educate people on the Denver real estate market.
Aside from the signature aluminum, it looks nothing like a traditional Airstream. Its tinted, wrap-around windows and large circular skylight makes it look futurist, not vintage. Instead of a small entry door, the entire back of the Airstream completely opens up. The stylish interior seats four to six people and has a removable table for signing closing documents. Numerous iPad monitors are mounted throughout the interior with a rotating slide show of homes for sale in the neighborhood. It has a coffee and champagne bar, satellite TV, surround sound, wireless internet and printing, as well as downloadable neighborhood and bike maps. There is even a fire pit, BBQ grill and outdoor movie projector for hosting special events. Want to take a neighborhood tour or look at a few houses? No problem. Do so on one of the Urban Luxe cruiser bikes parked outside.
Follow us on Twitter @UrbanLuxeDenver for updates on when and where we'll be next!
High-res images by Third Eye Studio can be downloaded here: https://www.dropbox.com/sh/2ygkjjrwzfc550o/TzUqkSosCx.
Urban Luxe Real Estate is a full service boutique estate firm with a collection of extremely talented and professional Realtors, transaction managers, writers, art directors, graphic designers, photographers, and interior designers who provide tireless, personalized guidance for individuals and families seeking exceptional Denver real estate expertise. Urban Luxe Airstream is a mobile office designed to dissolve boundaries between company and customer, highlighting Denver lifestyle and social community.