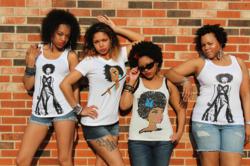 The new collection is fierce and fashion forward.
Dayton, OH (PRWEB) July 09, 2013
Add a pop of pizzazz to your outfit and make a major style statement donning wearable art designs by Urban Mosaics. The company is a medium of organic cotton T-shirts that celebrate and promote natural hair, beauty and self-esteem bundled in fashion forward tanks and T's.
"The new collection is fierce and fashion forward. It's never too late to get your glam on by accessorizing your attire with a feminine and flirty organic Tee. And just like that you've amped up your summer swag," said Stacy Edey, owner and founder of Urban Mosaics. "What I love most about the new line of apparel is that it's got Fashionista's Weekend Wear ready. From BBQs and date nights to a quick jaunt to the Farmers Market, the T's provide fun, weekend-worthy looks sure to make your Saturday and Sunday ultra-stylish while still maintaining true to our goal of providing 100% organic cotton fun, chic and empowering messages about curly and natural hair."
The new organic T-shirt summer collection features inspirational designs ranging from adorable anime artwork, a tank featuring a larger than life picturesque woman sporting a fabulous Afro, a woman ripping the runway with a bold red lip and tousled hair to military inspired prints and patterns featuring the word "Natural," said Edey. "We want women to know they are salute-worthy."
Renowned sneaker artist Van Monroe of Cleveland, Ohio, created six of the 13 designs currently in Urban Mosaics' inventory. Monroe is an extremely talented artist whose designs are nationally recognized, including becoming part of the Smithsonian National Museum of African American History and Culture's collection. Monroe has created artwork for President Barack Obama, Spike Lee, Will.I.Am, Queen Latifah and countless other celebrities. Monroe worked with 20th Century Fox in promoting their summer blockbuster movie Wolverine with his sneaker designs. Monroe recently collaborated with Fox again to promote their popular animated feature Ice Age 4: Continental Drift.
Urban Mosaics also collaborated with a new artist for their summer collection. Graphic designer and web developer Quincy Macklin of Louisville, Ky., created two of the four summer designs. Macklin, owner of OnQ Studio Designs, artistry added an edge with attitude appeal to the conceptualized images commissioned by Edey.
Edey said it is not coincidental that the company is eco-friendly. The designs are printed on 100 percent organic cotton shirts and are shipped to customers in recyclable mailing tubes.
"We only support the use of 100 percent organic cotton and other sustainable materials because it's symbolic of accepting curly, kinky, wavy and tightly coiled hair the way it grows from our scalp, thus being organic," Edey said. "Not chemically processed to make it straight. Therefore, naturally textured hair is organic."
Edey said, "We really pride ourselves on supporting efforts of sustainability. And this just makes sense for Urban Mosaics. What you wear from our company is just as natural as the hair you grow. Our shirts are like a second skin."
A portion of the proceeds is donated to Stivers School for the Arts, as Edey encourages women of all ages and ethnicities to believe in themselves and believe they can impact positive change in the world through their passions and views.
About Urban Mosaics: Founded in March 2011, Urban Mosaics is expressionist, wearable art intended to express meaning or emotional experience rather than the physical reality of Afro-textured hair. Urban Mosaics is high-quality clothing and accessory imagery created from a subjective perspective to evoke moods or ideas regarding natural hair. Our mission is to be a catalyst for change by promoting the beauty of textured hair signified by abstract works of wearable art. Our vision is to help create an awareness of the indefinable beauty of natural hair by instilling a paradigm shift in the conscious mind.
To learn more, visit Urban Mosaics at http://urban-mosaics.com.