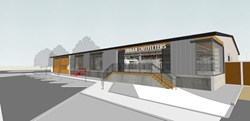 Philadelphia, PA (PRWEB) August 12, 2013
This Thursday, August 15th, at 10:00 a.m. PST, Urban Outfitters will open in Malibu, California. The store, located at 3806 Cross Creek Road in Malibu Country Mart, is the first Urban Outfitters store in the area. The 10,075 square-foot space is designed with the unique cultural aspects of the Malibu community in mind. Boasting distinctive architectural details throughout, including wood rafter ceilings, heavy timber fitting rooms, a multicolored God's eye floor and glass garage doors that open to a furnished courtyard—an outdoor area specially designed for customers to socialize and enjoy events, such as movie screenings and concerts.
"We've been interested in Malibu for quite some time," says John Hauser, Urban Outfitters Chief Officer of Brand Experience. "We came across a unique warehouse space that we instantly knew would be perfect for an Urban Outfitters store," he adds. "We wanted to create a space that embraced Malibu's distinctive personality, while also encompassing the experiential retail and brand culture for which Urban Outfitters is known."
To celebrate the opening on August 15th, Urban Outfitters will host a series of in-store events and activities for customers to enjoy, including: shopping, a DIY terrarium workshop, social media contests and giveaways. The festivities continue Friday the 16th with a special screening of "Sunshine Daydream"—the 1972 music documentary about the infamous Grateful Dead concert. Customers are encouraged to join us in the courtyard to view the rare film while enjoying free refreshments. On Saturday, August 17th, Urban Outfitters teams up with Surfrider Foundation and their efforts to protect oceans from pollution. Over 70 Urban Outfitters employees will join Surfrider for a beach cleanup. Surfrider, which was founded in Malibu over 25 years ago, will receive ten percent of the first three days of Urban Outfitters Malibu store sales. Last but certainly not least, Urban Outfitters and Converse will host "Live in the Lot", a concert featuring live performances by LA-based bands Bleached and Dum Dum Girls. There will also be a Converse pop-up tent, a beer garden from local brewery The LAB Brewing Co. and catering from local food trucks Sky's Gourmet Tacos and The Green Truck. See below for a full list of events and times:
Thursday August 15th
Urban Outfitters Malibu Grand Opening
3806 Cross Creek Road, Country Mart
10:00 a.m.-9:00 p.m.
Friday August 16th
Sunshine Day Dream Movie Screening
Urban Outfitters Courtyard
9:00 p.m.-11:00 p.m.
Saturday August 17th
Urban Outfitters X Surfrider Foundation Beach Cleanup
Surfrider Beach
9:00 a.m. -11:00 a.m.
Saturday August 24th
UO X Converse Presents Live in the Lot!
Urban Outfitters Lot
12:00 p.m. – 5:00 p.m.
Bleached: 2:00 p.m.
Dum Dum Girls: 3:00 p.m.
For more information about the Urban Outfitters Malibu store or to inquire about the Urban Outfitters Malibu events mentioned, please contact Crystal Carroll at ccarroll(at)urbanoutfitters(dot)com.
About Urban Outfitters:
Urban Outfitters is an eclectic lifestyle retailer dedicated to inspiring customers through a unique combination of product, creativity, and cultural understanding. Founded in 1970 in a small space across the street from the University of Pennsylvania, Urban Outfitters now operates over 200 stores in the United States, Canada and Europe offering experiential retail environments and curated women's, men's, and home product assortments. For more information visit Urban Outfitters on the web at http://www.urbanoutfitters.com .