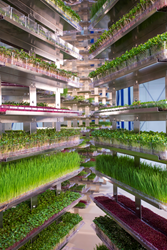 "Skywell advances our efforts towards water conservation and positions Urban Produce at the forefront of sustainable agriculture." - Ed Horton, President & CEO, Urban Produce
Irvine, Calif. (PRWEB) September 15, 2015
Advancing their efforts towards water conservation and sustainability, USDA Certified Organic vertical farm, Urban Produce has installed Skywell's high-capacity air water system. Skywell's state-of-the-art technology harnesses moisture from the air and converts it into clean, filtered water, which Urban Produce now uses to water their 16-acre vertical farm.
With Skywell, Urban Produce is revolutionizing the way they source their water. Urban Produce's 5,800 sq. ft. High Density Vertical Growing System is synced with an intelligent, integrated watering process that ultimately allows them to grow 16 acres of organic produce using 93% less water than conventional farming. With the implementation of the Skywell unit, Urban Produce now has an even more sustainable solution.
"Urban Produce is constantly pushing the envelope when it comes to sustainability," commented President & CEO Ed Horton, who plans to build 50 Urban Farms in the next five years. "The installation of the Skywell unit advances our efforts towards water conservation and positions Urban Produce at the forefront of sustainable agriculture."
Skywell's industrial-sized unit is designed to produce approximately 100 gallons of sustainable water each day. The system uses innovative technology to draw ambient air into the unit where it undergoes a process similar to nature's very own water cycle -- moisture is collected and then purified using a rigorous multi-filter process, along with the introduction of ultraviolet and ozone exposure between storage and use.
Skywell will integrate with Urban Produce's hydroponic High Density Vertical Growing System by supplying its intelligent watering station with Skywell's sustainable air water. The watering station is able to dispense a specified dose of water and organic nutrients, while tailoring doses to each plant's individual needs. Skywell's air water and Urban Produce's tailored watering system provide a solution to water conservation efforts by eliminating water waste.
Businesses around the world have long sought ways to reduce their carbon footprint, but with today's frequent droughts and global water crisis, businesses and consumers alike must also think about their water footprint. The installation of the Skywell unit allows Urban Produce to greatly decrease their already minimal use of California's depleted water supply. Both Urban Produce and Skywell have plans to implement their sustainable alternatives on a national scale.
For more information, please visit http://www.urbanproduce.com or http://www.skywell.com.
ABOUT URBAN PRODUCE
Located in Irvine, Calif., Urban Produce grows a variety of USDA Certified Organic microgreens, wheatgrass, basils, herbs, and leafy greens using their patented High Density Vertical Growing System which combines state-of-the-art technology and hydroponics. Their vertical CAE (Controlled Environmental Agriculture) facility allows them to produce living, organic produce year round, in natural or artificial light, above or below ground while using 93% less water and 80% less nutrients than conventional farms producing similar yields. Urban Produce further differentiates itself from conventional farms by packaging and selling living products, still rooted and harnessing nutrients. Their mission is to bring Urban Farms to communities across the nation, thus stimulating economies and creating local jobs all while reducing agriculture's carbon footprint and its dependency on oil. Urban Produce will build 100 Urban Farms across the nation within the next 3-5 years. For more information, please visit: http://www.urbanproduce.com, or connect with Urban Produce on Instagram, Facebook, Twitter, YouTube and Google+.