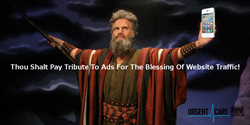 3rd Commandment - Thou Shalt Pay Tribute To Ads For The Blessing Of Website Traffic
Oklahoma City, Oklahoma (PRWEB) April 14, 2014
3rd Commandment of Internet Marketing for Urgent Care, "Thou Shalt Pay Tribute To Ads For The Blessing Of Website Traffic"! – SEM (Search Engine Marketing)
The key is to understand that online ads are a vital part of a successful internet marketing strategy. That also means knowing how to manage it in proper proportion of the overall budget. Since on average only 14% of people trust ads its important to scale the plan accordingly. Some target markets have a higher success ratio than others. Urgent Care is above that 14% average due to the fact that when most people are looking for Urgent Care services, time is of the essence and the person searching won't spend quite as much time researching. They want a fast and relevant solution and an ad may be what does the trick. SEM is more than just ads on a search page though. Here are a few ways ads reach a target audience on the internet:
1. Search Ads – This is the most common and referenced when the term SEM or PPC is mentioned. When results show on a search page ads can be placed in favorable positions on those pages. Tops sites for this are Google, Yahoo, and Bing, but they are also distributed now in email, content landing pages and other sites in those search engines' extended networks. The ad will show up based on a number of possible factors such as: keyword, content topic, email content, visited sites and more.
2. Social Networking Sites – Sites like Facebook, Twitter and LinkedIn all have valuable data about their users. This data is gold to advertisers. It helps them pinpoint some startling specifics. This can be narrowed by everything on a users profile, friends, activities, posts and more.
3. Re-targeting and Niche Site Ads – SEM can get quite complex. With the ability to track endless amounts of data from internet users there are some creepy ways to put relevant ads in front of an audience. With re-targeting ads can be placed on network sites that have data about a persons visit to their website or network site. This is why an ad will be on a separate site for a site recently visited. They are putting up moving billboards that follow their target market. Another place to have banner ads is on sites that offer ad space directly. Some examples are local radio and news websites.
SEM is an area that can suck an urgent care marketing budget quick with little to zero results if not done correctly. After the budget is spent nothing remains. It is highly recommended to use a professional for SEM. It's also wise to have other internet marketing strategies in place along side the SEM plan. Internet marketing success is not a silver bullet. It's a correlation of all the possible avenues working together towards the big picture.
4th Commandment of Internet Marketing for Urgent Care, "Thou Shalt Be Socially Relevant To Thy Audience"! – Social Networking for Urgent Care Marketing
If a 20 + year old local business is asked, "What's been your best form of advertising?", 9 times out of 10 the answer is "word of mouth". The impact of peer recommendations is a strong one and it won't be changing any time soon. The only thing that has changed is how the recommendations are given.
Back in the 1800′s they were given by a direct person to person word of mouth. If someone felt compelled to give a glowing review it wouldn't happen otherwise. Since communication and transportation weren't as advanced as it is today it can be imagined that very few people would go out of their way to tell someone about a business experience they had. The same goes for the next development, regular mail. (slow and requires effort) It would come up in conversation or maybe have a letter written, but that's about as viral as it got.
In the 1900′s technology made word of mouth easier to spread. The first main tool was the telephone. Instead of making an across town trip to tell something to someone all that was needed was to pick up the phone. This made word of mouth even faster. Towards the end of the 1900′s we had the internet and email. Email made it easy to give that recommendation to a list of people all at once being the most efficient way to give word of mouth recommendations. The only problem is that not too many people feel inclined to write a testimonial and email it to their contacts list without some form of prodding or incentive from the company wanting the good press.
Today Social Networking is the best way to spread word of mouth advertising. By being relevant on the key social networks of a target audience an Urgent Care clinic can gain interest from a potential patient and then have them see the current information and interactions with existing happy (or unhappy) patients. These Social Networking users can also see weather or not any of their friends have connected with that Urgent Care clinic. 90% of all people trust peer recommendations and the easiest recommendation is a passive one. Without even asking, a user can find valuable information from their network and base a buying decision on the actions, connections, reviews, etc they find. If there's nothing relevant about that business found then the chances are that another Urgent Care clinic will be chosen.
5 other key reasons to be relevant on Social Networks:

Social Networking it the #1 activity in the world
The average user is on Social Networking sites for over 30 minutes at a time
The release of the Ford Explorer on Facebook generated more traffic than a Super Bowl ad
Social Networking is used heavily by all buyer age demographics
The average person ages 18 – 35 sees more ads on Social Networking sites than on TV
To read all of the articles in this series visit - http://www.urgentcare2point0.com/category/the-10-commandments-of-internet-marketing-for-urgent-care/.
To request a free Urgent Care Marketing consultation click here.