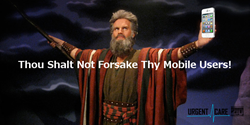 Over 50% of Urgent Care website traffic has been from mobile sources.
Oklahoma City, OK (PRWEB) April 21, 2014
5th Commandment of Internet Marketing for Urgent Care, "Thou Shalt Submit Thyself To Google Maps"! – Local Search
This commandment focuses on Local Search.
Local Search is arguably the single most important factor in gaining new urgent care business from the internet. Here are 3 factors used to determine this decision:
1. Search Engines using user IP's to provide Geo-relevant search results - Back in the early 2000′s if someone wanted to see local options for a search they would have to include the city, state or region in the search with the key phrase. Over time Google along with other search engines have changed their methods to display results based on location of the searcher based on their IP address. This changed the game for local search. Local search is much faster and accurate on sites like Google.
2. Enhanced Content (Map Placement, Reviews, Menus, Reservations, Etc) – If there's a local search result for a popular key phrase, (urgent care) Google will show "Enhanced Content". For Urgent Care Clinics this will most likely show up as a map and pin dropped locations with reviews, driving directions and more. When enhanced content shows up for a local search it usually gains the most attention and ultimately new patients. Studies have shown that approximately 90% of the search traffic will click within the first 3 map results options on Google.
3. Mobile Searches thrive on Local Search data – When a smartphone is used to make a search it gives the search engine the option to pinpoint their exact location and give local search results based on where they are in relation to the search options. From there the user can click on the directions link and get turn by turn directions to an Urgent Care of their choice. When the need for Urgent Care arises it's usually a fairly "urgent" matter, so the clinic that can be found the easiest and prove to be a quality location based on the quick reviews will win the new patient.
6th Commandment of Internet Marketing for Urgent Care, "Thou Shalt Not Forsake Thy Mobile Users"! – Mobile Marketing
This Commandment focuses on Mobile Marketing.
Today's' society is driven by mobile. Most of America's population has a smart phone. Many households have completely abandoned traditional home telephone service and only use mobile. Here are some other interesting facts that point out why mobile marketing is so important for Urgent Care.

90% of American adults have a cell phone
58% of American adults have a smartphone
32% of American adults own an e-reader
42% of American adults own a tablet computer
This next segment of information is called "Just In Time" users. These are users that used their phones in daily life situations. An April 2012 survey finds that some 70% of all cell phone owners and 86% of smartphone owners have used their phones in the previous 30 days to perform at least one of the following activities:
Coordinate a meeting or get-together — 41% of cell phone owners have done this in the past 30 days.
Solve an unexpected problem that they or someone else had encountered — 35% have used their phones to do this in the past 30 days.
Decide whether to visit a business, such as a restaurant — 30% have used their phone to do this in the past 30 days.
Find information to help settle an argument they were having — 27% have used their phone to get information for that reason in the past 30 days.
Look up a score of a sporting event — 23% have used their phone to do that in the past 30 days.
Get up-to-the-minute traffic or public transit information to find the fastest way to get somewhere — 20% have used their phone to get that kind of information in the past 30 days.
Get help in an emergency situation — 19% have used their phone to do that in the past 30 days.
All of this data proves that mobile's not going away anytime soon. Not using it properly to market would be a grave mistake. Here are 3 key ways to leverage mobile for Urgent Care Marketing.
1. Mobile optimized website - Not tuning a website for mobile use makes it hard for users to navigate and read the website. This can be a big waste if money had been spent on paid ads or on going organic optimization only to lose the visitor by not having a mobile optimized site. Having a responsive website design or a stand alone mobile website would be a good solution for mobile marketing.
2. Mobile App – Having a mobile app can help bring in repeat business and brand loyalty. There are several features that can help with this. Here are just a few things that can be done with a mobile app for Urgent Care:
-Coupons
-Loyalty Programs
-Click To Call
-Directions & Maps
-Reviews
-Events
-Tell a Friend Feature
-Push Notifications (Medical Alerts)
3. Text Club – Some users may still have an older cell phone without app capability and others that do may not want to download an app even if it's free. Using an opt in text club can still keep those people informed.
For a free consultation on how to get the most out of Local Search and Mobile Marketing Click Here
To read all of the 10 commandment series visit the website - http://www.UrgentCare2Point0.com/blog