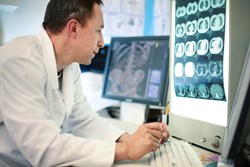 UrgentRad's fast and predictable turn around time for over-reads has added value. - Prime Urgent Care, Pearland, TX
(PRWEB) September 15, 2013
UrgentRad Radiology, an innovator in teleradiology solutions, achieved exponential growth in the second quarter. They have grown an average of one new center a week, with a total of 27 new sites since the beginning of the first quarter. Their growth is due in large part because of their great existing customer referrals, competitive pricing, and the addition of a new workflow platform designed to accommodate the most complex workflow requirements of teleradiology.
Prime Urgent Care, Pearland, TX says "UrgentRad's fast and predictable turn around time for over-reads has added value by giving our Providers and patients access to final decisions quickly. Speed, consistency and safety are very important in our clinical setting. UrgentRad stat services have been able to deliver over-reads allowing our Providers to have the most information available when developing treatment plans for patients. The software interface is user friendly and required minimal training ensuring that staff are focused on patients and not navigating through cumbersome technology."
UrgentRad believes urgent care centers should have access to the same high quality radiologists, turnaround times, and efficiencies as hospitals do, and their goal is to improve the overall quality of radiology care for the urgent care industry. UrgentRad offers radiology services to all 50 states and additional convenience and reliability 24/7/365.
About UrgentRad
UrgentRad, LLC provides high quality, low cost, radiology interpretations for a large number of centers across the US. With a network of qualified radiologists, working regular day hours, on an efficient and robust technology platform, they are able to provide quality reports in real time for less cost.
•Reliable- UrgentRad has a redundant system, 99.99% uptime, 24/7 support and fully HIPPA compliant.
•Rapid – UrgentRads system is easy to use and Stat reports are available with a single click.
•Decisive – trained radiologists are American Board certified and experts in emergent radiology.
Visit UrgentRad.com or Call (480) 339-5007 to learn more.