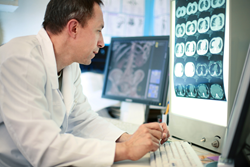 UrgentRad stat services have been able to deliver over-reads allowing our Providers to have the most information available when developing treatment plans for patients.
---Prime Urgent Care
Scottsdale, AZ (PRWEB) September 12, 2013
UrgentRad Radiology now provides professional radiology interpretation services to Prime Urgent Care in Pearland Texas. UrgentRad is leading the radiology industry by providing the highest quality radiology services in an effort to improve the overall quality of healthcare provided to urgent care centers. The urgent care industry is rapidly expanding as the costs of emergency hospital visits increase. UrgentRad Radiology enables urgent care centers to be competitive with hospital radiology departments, both in price and quality. UrgentRad Radiology continues to work toward providing urgent care centers with the same high quality radiologists, turnaround times, and efficiencies as hospitals provide.
Prime Urgent Care, Pearland, TX says, "UrgentRad Radiology's fast and predictable turnaround time for over-reads has added value by giving our Providers and patients access to final decisions quickly. Speed, consistency and safety are very important in our clinical setting. UrgentRad stat services have been able to deliver over-reads allowing our Providers to have the most information available when developing treatment plans for patients. The software interface is user friendly and required minimal training ensuring that staff are focused on patients and not navigating through cumbersome technology."
About UrgentRad
UrgentRad, LLC provides high quality, low cost, radiology interpretations for a large number of centers across the US. With a network of qualified radiologists, working regular day hours, on an efficient and robust technology platform, they are able to provide quality reports in real time for less cost.
•Reliable - UrgentRad has a redundant system, 99.99% uptime, 24/7 support and fully HIPAA compliant.
•Rapid - UrgentRad Radiology's system is easy to use and Stat reports are available with a single click.
•Decisive - trained radiologists are American Board certified and experts in emergent radiology.
Visit UrgentRad.com or Call (480) 339-5007 to learn more.
About Prime Urgent Care
Prime Urgent Care, located in Pearland, Texas is a walk-in medical clinic that provides outstanding medical care to residents of Brazoria County and surrounding area. They are fully staffed with trained medical professionals and can treat acute illnesses and injuries, physicals for pre-employment, DOT, schools and sports as well as annual