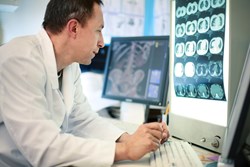 With Irena's keen knowledge about modern marketing, she will help UrgentRad effectively communicate our message to the Urgent Care industry
Scottsdale, AZ (PRWEB) August 23, 2013
UrgentRad, LLC today announced the promotion of Irena Ajic as Director of Digital Marketing effective immediately.
Ms. Ajic has been with UrgentRad since 2012 and has been instrumental in their exponential growth using digital marketing strategies in the urgent care clinic vertical. Prior to joining UrgentRad Irena was Owner and Project Manager at Stone Masons, Inc and graduated Magna Cum Laude from Arizona State University with a B.S.D in Architecture. "With Irena's keen knowledge about modern marketing, she will help UrgentRad effectively communicate our message to the Urgent Care industry," says Executive Director, Tim Hogan.
In her new role, Irena will be responsible for all marketing initiatives promoting UrgentRads' new workflow platform to urgent care centers nationwide, using social media, email marketing and internet marketing strategies across multiple channels.
About UrgentRad, LLC
UrgentRad, LLC provides high quality, low cost, radiology services and interpretations for a large number of centers across the US. With a network of qualified radiologists, working regular day hours, on an efficient and robust technology platform, they are able to provide quality reports in real time for less cost.

Reliable- UrgentRad has a redundant system, 99.99% uptime, 24/7 support and fully HIPPA compliant.
Rapid – UrgentRads system is easy to use and Stat reports are available with a single click.
Decisive – trained radiologists are American Board certified and experts in emergent radiology.
UrgentRad Radiology is on the forefront of improving the quality of healthcare by connecting the world with the best radiology services, most efficiently and with better results. Please visit UrgentRad.com.