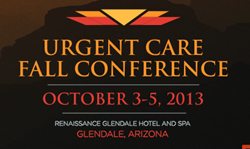 We have attended the UCAOA conferences for the last 6 years and each show has been very beneficial. It allows us to meet hundreds of urgent care owners and managers and learn about their evolving needs. Tim Hogan, Executive Director
Scottsdale, AZ (PRWEB) September 24, 2013
UrgentRad Teleradiology will be exhibiting at the 2013 UCAOA Fall Conference on October 3rd-5th at the Renaissance Glendale Hotel & Spa in Glendale, Arizona, Booth 706. This will be UrgentRad's 6th year attending the convention.
Tim Hogan, Executive Director of UrgentRad says, "We have attended the UCAOA conferences for the last 6 years and each show has been very beneficial. It allows us to meet hundreds of urgent care owners and managers and learn about their evolving needs. Recently there has been an increasing need for urgent care centers to cut cost without cutting quality. We listened and we are eager to respond to that during this conference."
The conference will be held at:
Renaissance Phoenix Glendale Hotel & Spa
Upper Lobby Level
9495 W Coyotes Blvd
Glendale, Arizona 85305
Thursday, October 3rd to Saturday, October 5th
UrgentRad will have booth 706, and will be offering a limited time special offer for new customers during the show. UrgentRad has strengthened their radiologist base and has various new offerings depending on the state, providing urgent care centers the best value, quality, and timeliness of reports.
About UrgentRad
UrgentRad, LLC provides high quality, low cost, radiology interpretations for a large number of centers across the US. With a network of qualified radiologists, working regular day hours, on an efficient and robust technology platform, they are able to provide quality reports in real time for less cost.
•Reliable- UrgentRad has a redundant system, 99.99% uptime, 24/7 support and fully HIPAA compliant.
•Rapid – UrgentRad's system is easy to use and Stat reports are available with a single click.
•Decisive – trained radiologists are American Board certified and experts in emergent radiology.
Visit UrgentRad.com or Call (480) 339-5007 to learn more.
About Urgent Care Association of America (UCAOA)
Founded in 2004,Urgent Care Association of America (UCAOA) is for all professionals working in the urgent care industry. With nearly 6,400 members, from more than 2,615 clinics in the US, Australia, Bahrain, Canada, Hungary, Ireland, Israel, Mexico and New Zealand. UCAOA has both individual and practice members.
UCAOA focuses on the role of urgent care medicine as a healthcare destination and provides ongoing support through the education, advocacy, community awareness, benchmarking and promoting standards of excellence.
The UCAOA Fall Urgent Care Conference is an intense immersion program and exhibition for the urgent care industry. The event will feature One-Day and Two-Day Courses covering topics such as:
•Clinical Masterclasses in Endocrinology, Immunology, Occupational Medicine, Radiology, EKG, Pharmacology, Risk Management, ENT and Pediatrics.
•Urgent Care Marketing: the Essentials for Growing Your Business
•Comprehensive Clinic Startup
•Tools for Improving Patient Experience
•Successful Reimbursement Strategies
•How to Reposition Your Center in an Era of Healthcare Reform
•Hands on Splinting and Casting