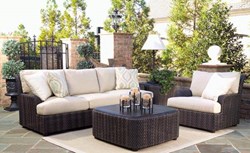 Woodland Creek Furniture offers an artisan approach to furniture making.
West Bloomfield, Michigan (PRWEB) August 28, 2013
Traverse City-based Woodland Creek Furniture is proud to announce the grand opening of their handcrafted, fine-furnishings showroom, URHOUZZ, on Sunday, Sept. 1, 2013. Located in West Bloomfield, Mich., URHOUZZ will be the first retail location in metro Detroit for the family-owned Michigan business.
URHOUZZ's parent company, Woodland Creek Furniture, is located on East Bay in Traverse City and has been devoted to crafting unique and custom furniture from local and sustainable sources for nearly 12 years.
Woodland Creek Furniture offers an artisan approach to furniture making. With the rise of globalization, most local furniture manufacturing jobs in the past 50 years were sent overseas for the nearly non-existent environmental laws and inexpensive labor. Robert Evina, President of Woodland Creek Furniture, has been quietly working to bring some of those jobs back home. Evina is part of a burgeoning micro-manufacturing movement taking root in this country. New tools and technologies enabled him to not only support his philosophy of sustainability and the use of environmentally friendly manufacturing techniques, but they also ensured the creation of jobs in the state of Michigan.
Evina founded his business more than a decade ago because he wanted to design unique, handcrafted furniture, while traveling the world during his career. He's visited most of Eastern and Western Europe and Asia in search of unique accessories and furniture made from exotic woods.
Every piece manufactured by Woodland Creek Furniture and sold in their brand new West Bloomfield location will be beautifully crafted from reclaimed woods or responsibly harvested materials. More than 50 percent of their products are made in the U.S., and they're proudly committed to manufacturing more than 30 percent in their Michigan workshop. Pieces purchased from the Michigan workshop will include a certificate identifying the builder and shop manager. If the customer is ever in the Traverse City area, they're invited to stop in and meet the builder for a private, guided tour of the space. In the near future, Evina hopes to take it one step further -- he's investing in live Internet streaming of the furniture making process. Customers will soon be able to log-in and watch their customized furniture being built.
Woodland Creek Furniture is exclusively found in metro Detroit at the new URHOUZZ showroom, and because there is no middleman, they're able to pass along incredible savings to the customer. Setting them apart from their competitors, approximately 90 percent of the furniture URHOUZZ sells will be entirely customizable in both size and finish. "We do not want people to buy from us just because most of the furniture is made in the U.S. Rather, we want them to fall in love with our designs, our competitive pricing, our customization -- the fact that it is made in America should be just icing on the cake," says Evina.
Any products that are sourced from abroad have been strategically selected based on a shared commitment to unique design, quality, and sustainability. These companies have pledged to manufacture furniture using reclaimed woods or fast-growing, sustainable plantation woods. "Lead times are a bit longer for imported designs, but most of our customers do not mind after they discover the benefits of working with the companies from which we source," says Evina.
URHOUZZ and Woodland Creek Furniture will work to introduce fresh, new interpretations of classic furnishings and craft innovative new pieces that serve beautifully in both form and function. From contemporary to rustic, URHOUZZ has a style for every aesthetic.
Evina presently operates three retail stores and has a growing internet business. "Thanks to this little invention called the Internet, small businesses can compete with the big box stores," says Evina. In the past year, thousands of customers found Woodland Creek and URHOUZZ online. "Hundreds actually got in a car or on a plane and visited the store and workshop from other states, in order to have us design custom furniture for their homes," says Evina. "It is quite humbling to know that they are passing by hundreds if not thousands of furniture stores to come see us. We will keep doing what we know how to do – listening to the customer, and designing and crafting quality furniture that makes the customer smile. It's a simple plan, but it seems to be working."
Last year, Woodland Creek Furniture shipped more than 2,500 custom pieces of furniture to points all over the U.S., Canada, and Europe. This, their fourth store in West Bloomfield, will soon be followed by a fifth store in Ann Arbor in 2014.
URHOUZZ is located at 6648 Orchard Lake Rd., West Bloomfield, Mich. 48322, near the corner of Orchard Lake and Maple Roads. URHOUZZ is adjacent to Sherwood Studios, a fine contemporary furniture store and interior design studio. For more information, visit http://www.urhouzz.com. URHOUZZ is open seven days a week. Monday, Thursday, and Friday 11 a.m. - 7 p.m.; Tuesday, Wednesday, and Saturday, 10 a.m. - 6 p.m.; and Sunday 12 - 5 p.m. Urhouzz