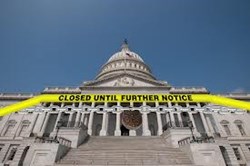 Without access to the iCERT system, many people will be in a compromising position
Fairfax, VA (PRWEB) October 08, 2013
The recent government shutdown has put US immigration at a standstill. Everyday the shutdown continues, more immigrants lose their ability to renew their status. Immigration attorneys like Beeraj Patel are locked out of the iCERT system, and there is no way to remedy the situation until the government shutdown ceases or until further guidance issued by the DOL itself.
iCERT is an online system that is used by immigration practitioners to submit LCAs and Prevailing Wage Determinations - a required prerequisite for both of these types of immigration petitions - for upcoming H-1B and Perm Labor Certifications. VA and DC immigration attorney Beeraj Patel states that the lockout from iCERT will create a snowballing problem. Mr. Patel informs,
"Without access to the iCERT system, many people will be in a compromising position. A long-running shutdown could mean that individuals could begin to fall out of status due to their inability to extend or change their visas iCERT. Furthermore, there is currently no way for practitioners to get proof of submission – the Department of Labor has not given us any alternatives to date."
This is unlike previous situations where practitioners were given the option of filing uncertified LCAs without signatures from certifying officers (non-signature petitions). Individuals were able to renew and avoid falling out of status. Without this ability or guidance from DOL, individuals who require LCA's for their petitions are "stuck in limbo." Patel states,
"I am hopeful that we will be given a way to generate LCA's and continue PERM filing timelines or this situation will continue to worsen over time. If we are given a method to keep people from falling out of status and to continue to file on time and without delays then we can all avoid a great deal of frustration and disappointment".
However, to this point there has been now news from higher authorities regarding how LCA and Prevailing Wage Determinations filings will be managed.
###
Patel Law Firm LLC is an immigration law firm located at 3900 University Drive, Suite #100, Fairfax, VA, 22030 and is owned by immigration rights advocate, Beeraj Patel, Esq. The firm's focus is providing quality service in the field of immigration law through affordable and professional assistance.