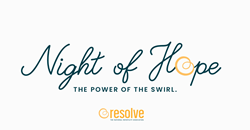 "The Night of Hope Gala is an important event celebrating the impact of advocates for the larger infertility community."
ROCKVILLE, Md. (PRWEB) November 14, 2022
US Fertility, the nation's largest partnership of physician-owned and physician-led top-tier fertility practices, proudly extends its partnership with RESOLVE: The National Infertility Association as a Hope Award Sponsor at its premier Night of Hope Gala on November 14. Each year, RESOLVE presents Hope Awards to individuals and companies whose achievements impact access to care and infertility awareness. The Night of Hope is RESOLVE's premier fundraising event for the family-building community.
"Through US Fertility's partnership with RESOLVE, we're actively offering support groups, educational content, public awareness initiatives, and advocacy to increase access to fertility care and provide support to those facing infertility" expresses Eric A. Widra, M.D., RESOLVE Board Member and Chief Medical Officer at US Fertility partner practice Shady Grove Fertility (SGF). "The Night of Hope Gala is an important event celebrating the impact of advocates for the larger infertility community." Dr. Widra will present the Hope Award for Service at the Night of Hope.
The Night of Hope will bring together more than 500 leaders and influencers in the family-building community to celebrate the accomplishments of those who have performed outstanding work for the infertility community.
"Whether it's fighting for access to care, giving a voice to isolated communities, or leading the way in workplace benefits, these Hope Award honorees are worthy of a celebration, and we thank our sponsors, including US Fertility," shares Barbara Collura, RESOLVE's President/CEO.
The event takes place Monday, November 14, at Capitale in New Your City. RESOLVE will also host a Livestream of the event from 7 to 9 p.m. EST. The emcees for the evening, actor and advocate Kellee Stewart and CNN entertainment reporter Chloe Melas, have planned exclusive content for the Livestream audience.
For more information regarding the Night of Hope and the Hope Award recipients, visit http://www.resolve.org/nightofhope.
About US Fertility
US Fertility is the nation's largest partnership of physician-owned and physician-led top-tier fertility practices, offering comprehensive fertility-market-focused non-clinical, administrative, and technical platforms that help domestic and international practices improve patient outcomes and increase patient access. To learn more about partnership- or affiliate-status benefits, call 301-545-1308 or visit USFertility.com.