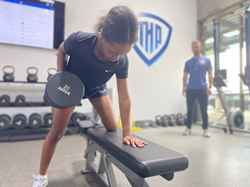 "Spencer brings a wealth of knowledge and experience as an athlete and clinician, creating a camp designed for both individual and team sport athletes, who want to focus on developing strength and conditioning." -Tim Phelan, VP of Running and Sport Performance, USSC
SAN RAFAEL, Calif. (PRWEB) February 03, 2022
US Sports Camps, the largest provider of sports camps in the world, is excited to announce the launch of its first Training and Conditioning Camp with Tatum Human Performance (THP) at the new Bell Bank Park, a Legacy Sports USA multi-use family sports and entertainment complex, in Mesa, Arizona.
This Sport Performance Camp provides multi-directional individual and team sport athletes a premium 2-day experience, offering performance assessment and testing, high performance training and conditioning, as well as breakout sessions on nutrition and training, from THP's group of coaches and staff experts.
The program is directed by Tatum Human Performance founder Spencer Tatum, who is an industry leader and innovator in the Sport Performance field, having been featured on ESPN for his work in the NFL, and CBS sports for his training with Jon Rahm.
"We are thrilled to launch our first Sport Performance Camp with Spencer Tatum and Tatum Human Performance at the new Bell Bank Park this winter," says Tim Phelan, VP of Running and Sport Performance, US Sports Camps. "Spencer brings a wealth of knowledge and experience as an athlete and clinician, creating a camp designed for both individual and team sport athletes, who want to focus on developing strength and conditioning."
-
This 2-day Sport Performance Camp offers instruction for both individual and team sport athletes, age 12-18, providing campers with the training tools to improve their overall performance, designed to translate to all sports and benefit all athletes, regardless of age or skill level.
Campers, coaches, and parents interested in the Nike Sport Performance Camps can visit https://www.ussportscamps.com/sport-performance or call (800) 645-3226.
About US Sports Camps
US Sports Camps (USSC), headquartered in San Rafael, California, is America's largest sports camp network and the licensed provider of Nike Sports Camps. The company has offered summer camps since 1975 with the same mission that defines it today: to shape a lifelong enjoyment of athletics through high quality sports education and skill enhancement.